The Republic of Malta is located in the heart of the Mediterranean and is the smallest member state in the European Union. In the last decade, Malta has made an effort to diversify its business sectors and attract foreign direct investment (FDI). Great success has been achieved through Malta's continuous development of and investments in its national infrastructure and digital technologies.  A cross-section of industries that have benefited from these forward-looking policies include:-
Communication Technologies

Aviation 

Film Industry 

Financial Services 

Pharmaceuticals

Maritime Management 
The economic contributions from these policies have propelled GDP growth, making Malta one of the fastest-growing economies in the EU. Complemented with a cosmopolitan island lifestyle and recognized as an English-speaking nation, Malta is considered by the international community as a top choice business hub to operate from. 
If you are seeking to establish a permanent presence within the EU or perhaps looking at expanding your business interests in Africa or the Middle East, the following 7 reasons will explain why opening a Virtual Office in Malta should be your top choice:
Geographical Location
Malta's strategic Geographic Location in the Mediterranean provides the perfect gate-way for individuals and corporations seeking to invest and expand their business interests in the European, African, and Middle Eastern markets.
Registered Address
According to the Malta Chamber of Commerce, on average 25 new companies have been registered per day over the last two years. The Maltese Company Act requires businesses to have a legal or registered address in the region they intend to operate from. 
One of the key benefits of opening a Virtual Office in Malta is access to the same corporate address as the provider of your choice. Your Registered Address in Malta will complement your business with a prestigious location, presence, and the flexibility to work remotely from anywhere in the world.
Check prices for Virtual Office Plans from SOHO – Malta's largest Office Space Provider
Corporate Tax Incentives

With a number of favorable double taxation treaties in place, the Corporate Tax Incentives Malta offers are ranked among the most advantageous for business in the EU.  Income, business tax, and value-added tax (VAT) rates remain among the lowest in Europe.
Cost-Effective
Commercial Office space and its associated costs are at a premium. Leasing a Virtual Office in Malta is a smart, cost-effective decision that eliminates capital investment requirements and their continued operating costs. The numerous benefits for start-ups and small to medium-sized enterprises (SME's) include retention of capital, heightened cash-flows, and greater operational flexibility when investigating new markets.
Highly Skilled Workforce  
Malta boasts a young, well educated, multinational labour pool that enables employers to access and choose from a talented human resources network.  This Highly Skilled Workforce enjoys support for additional professional development from government and industry partnership training programs.
Administrative Support Services 
A Virtual Office in Malta offers a suite of Administrative Support Services that in some cases may include company registration and document processing assistance.  Additionally, multilingual administration personnel provide professional reception, telecommunication, message and mail forwarding services.   
Advanced Digital Technology
In the last decade, Malta invested substantially in ICT – Information, Communication, and Technology digital infrastructure. As a result,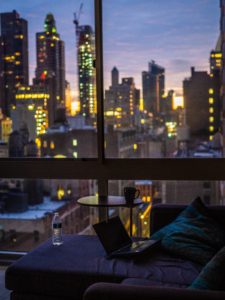 Malta is now a global leader in the delivery of ICT services. 
The World Economic Forum ranked Malta in third place for the priority that the Maltese government has given to its ICT infrastructure.

Malta performs above the EU average in Broadband connectivity, internet use by citizens, use of digital technology by businesses, and provision of digital services.

Malta is a European leader in the high and ultra-speed broadband Next Generation Access (NGA) Plan of services. 
Malta's Advanced Digital Technology benefits everyone, and especially those businesses who rely heavily on digital technologies for operational success.  Most Virtual Office providers offer state-of-the-art digital technologies, supported by a dynamic local infrastructure and servicing capability.  This is a key advantage for those businesses that may wish to integrate this platform of services, at a fraction of the cost.  
Where should I lease a Virtual Office in Malta?
SOHO Office Space is the leading provider of Virtual Office space in Malta. At SOHO, we provide our members with Stress-Free solutions that will support all of your business needs. 
We have on offer Three Elite Virtual Office membership packages to choose from:-
Virtual Office

Premium Virtual Office

Office Plus
Each of our Offices offers exclusive membership packages may be individually tailored to meet your specific business needs and budget. The applications can be completed conveniently online.
Regardless of the type of Virtual Office membership plan you opt for, some of the key services on offer are:-
Certificate of Incumbency (Signed by the Director)

Registered Corporate Address

Professional Receptionist

Use of High-End Conference Rooms and Executive Lounges

Industry-Leading Digital Technology Platforms

On-Site Private Mailbox

Print and Scan Services

Mail and Package Handling
And much more…
In summary, creating a Virtual Office membership in Malta provides entrepreneurs with distinct business advantages, including; an English-speaking workforce and operating environment, the political and economic stability of an EU member state, highly attractive tax incentives and regulations, a commitment to attract and retain foreign direct investment (FDI).  
Additionally, opening a Virtual Office in Malta offers a choice of three centrally located upmarket business addresses, all supported by NGA digital technologies, professional administrative services, and a flexible partnership with the leading provider that is prepared to adapt to YOUR changing needs.
Make your Company's First Impression with your Clients a Lasting Impression with a Virtual Office.