The concept of the traditional working climate within an office that is: show up, get as much work done, and at the end of the day simply leave, has become a thing of the past.
The increased value of amenities within the new working environment has impacted company culture. The ripple effect from these amenities has contributed to higher levels of productivity, creativity, and overall well-being.
The availability of a wide range of amenities within the working community is attractive for:
New recruits, and

Retaining existing employees
In this modern working environment, professionals are exhibiting a higher degree of workplace engagement, together with a reduction in stress and anxiety levels. The workplace has evolved.
Out with the old, in with the new!
SOHO's amenities are vast. SOHO offers a choice of high-quality amenities tailored to meet the growing needs of today's modern working environment.
This article is part of our guide to renting your private office in Malta. You can read the guide here.
What type of amenities can SOHO Members benefit from?
SOHO's Commercial and Essential Amenities

SOHO's Signature Tangible Amenities

Public Amenities and facilities
SOHO's Commercial and Essential Amenities

SOHO's commercial and essential amenities — among many others — include the services of;
A Professional reception

On-site private mail boxes

Printing and scanning

Mail and package handling
SOHO's Tangible Amenities
SOHO offers an eco-friendly, naturally lit, spacious, ergonomically and modern design features throughout all of their three office buildings.
Conference facilities include a multitude of;
Conference Executive Suites

Soundproof Skype and Podcast rooms

Meeting and Boardrooms
that can accommodate individual and/or different group sizes, and also the ability to host interactive group meetings. Pick and choose what best suits your business needs.
Event Space
SOHO's Event Space is ideal for both professional and/or entertainment venues.
Featuring a combined indoor and outdoor terraced area, SOHO's Event Space features;
Modern furniture throughout

An amazing sound surround system built-in throughout both indoor and outdoor space

LCD lighting

A large flat-screen TV, a built-in retractable screen and projector

For those chilly but glorious days, outdoor heaters

BBQ

Fireplace

Plus space for a live band or DJ
Regardless of what type of event, or size of attendees, if requested, SOHO can also provide all the catering services that may be required. Simply contact our catering manager to find out what SOHO has to offer.
Kitchen
Enjoy snacks and complimentary freshly brewed coffee, steeped tea, infused water, in SOHO's fully serviced kitchen daily.
Re-Energize
Step away from your workstation and re-energize in SOHO's Members Lounge or back terraces, overlooking some of Malta's best coastal views. Mix with peers, enjoy your packed lunch, or yet choose your next meal from SOHO's in-house bar and catering service. SOHO's lunch menu is 100% customized and discussed with SOHO's private chef in advance.
Relax
We welcome you to come and join SOHO's community and enjoy a series of 'responsible events' in the Members Lounge at SOHO The Strand. Take your pick: choose your fun night, and let SOHO do the rest. Whether it's board games or movie nights, SOHO has always something special planned for our members on a weekly basis throughout the calendar month, year-round.
De-Stress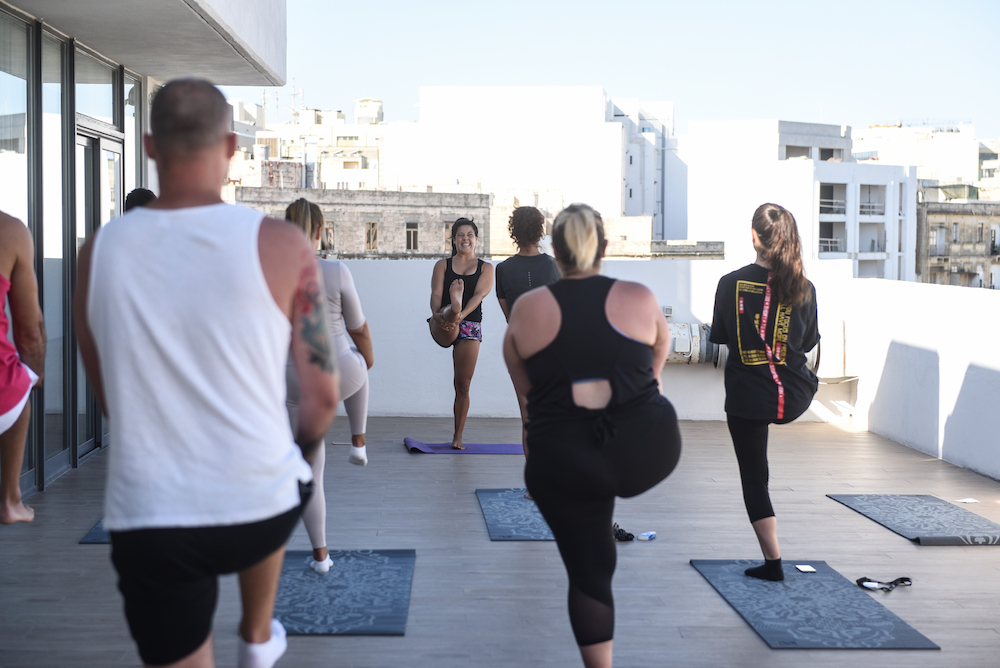 De-stress in SOHO's new, fully-equipped fitness centre and yoga studio. Our new facilities, including showers and changing rooms, will be available to SOHO's members this winter.
Coming Soon:
SOHO's 'Chill Out Area' on level 4, on the back terrace at The Strand. Members will be able to enjoy a game of ping pong or simply lie on the hammocks.
SOHO's rooftop bar

Outdoor swimming pool and sauna
Wi-Fi
SOHO provides all its clients with fast, strong, and reliable wifi and top-notch encryption technology software for added protection.
Security
CCTV 24 hours of video surveillance, and alarm system.
Housekeeping
Members do not need to lift a finger. SOHO takes care on your behalf of any housekeeping service you may require.
Ease of Access
SOHO offers:
Parking facilities in all of their three business centres to all of our members who wish to make use of this service.
24/7 Key card entry into either one of SOHO's three office buildings.
Use of Elevators
Easy access to the main public transportation terminals situated within walking distance from either one of SOHO's business centres.
Public Amenities and Facilities
SOHO's three office buildings are strategically located within walking proximity to;
Malta's main public transportation terminals. Busses operate numerous daily routes from each of these terminals seven days a week, with extended operating hours in high traffic areas, anywhere within the island.
Banks
Dependent on your preferred banking method, there are in excess of 20 banks and more than 20 ATM machines, many of which can be found within walking distance of SOHO Offices.
Postal Offices

7+ MaltaPost offices and sub-outlets.
Shopping District
5+ Shopping Malls and numerous boutiques along the promenade.
Cafes and Restaurants
Too numerous to count! SOHO Members enjoy exclusive discounts to a selection of restaurants and cafe's located near our office spaces.
Why SOHO?
At SOHO, we are pushing the limits to provide what we believe is necessary for a comfortable and innovative work environment.
Relax, De-Stress, and Re-Energize with SOHO Office Space.