One of the perks of being a freelancer or remote worker lies in the ability to be in control over where in the world you want to work. Your choice of location ultimately depends on an environment that will best contribute to your inspiration, productivity, creativity, and overall well-being. Let us introduce Malta: An island jewel in the beautiful Mediterranean that boasts over 300+ days of sun each year, hosts a massive multi-cultural Expatriate and start-up community, and an island that always has something to do for those looking to remain entertained.
If you're looking for your next location to maintain your work-life balance, Malta is the perfect destination to work while you play. This article will introduce you to just a few of the many reasons Expats who land on Malta choose to stay here for years to come.
Localities You Don't Want to Miss in Malta
Studies conducted by Stanford University have found that "Remote workers who are not tied by a fixed set of office parameters produced higher quality work products, exhibited lower stress levels, and were more efficient with time management in both their professional and personal capacities." When looking for the best places to work in Malta, you want to be creatively inspired by your surroundings while also remaining productive. Both expatriates and local residents can be found congregating in popular cultural areas in Malta, such as the capital Valletta, the historically rich village of Mdina, or the booming business districts of Sliema, St. Julian's, and Gzira.
Valletta
Founded in 1566 by Grandmaster Jean Parisot de Valette, Malta's capital city Valletta hosts a unique city center unlike anywhere else in Europe. One of Europe's smallest capital cities, Valletta's rich historic value has been recognized by UNESCO as a World Heritage Site since 1980.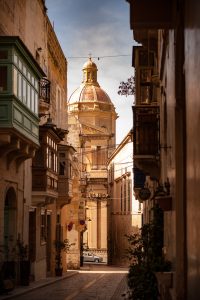 Valletta was built to what we know today by the Knights of Malta, with the goal of fortifying the city by constructing bastion walls to protect the capital. Valletta is located on an elevated peninsula surrounded by the Grand Harbour and Marsamxett Harbour, with the maze-like city featuring numerous side streets and beautiful sea-views, leaving individuals hours to explore the historically significant city.
Valletta is easily accessible by various methods of public transport. One can opt for the fast ferry, departing from Sliema with only a 15 minutes transit time. Individuals can also catch the ferry back to Sliema from the Valletta terminal, with ferries arriving and departing every 15 minutes. Individuals can also opt for the public bus system to get around the island, with the main, public bus terminal located in Valletta, connecting individuals to routes all over Malta.
Easily accessible and culturally significant, many individuals fall in love with Valletta at first sight. Expatriates in Malta can enjoy a plethora of cafes and restaurants, shops and fashion outlets, over 25 churches, as well as the iconic Pjazza Teatru Rjal, or Opera Theatre House; Valletta is never a dull moment.
Mdina
Another culturally and historically significant city, Mdina is a true gem to the Maltese islands. According to Maltese tradition, it is believed the Apostle Saint John resided in Mdina after his ship wrecked along the islands more than 4,000 years ago in 60 A.D.
The original capital city of Malta, Mdina is another fortified city, and is known to have homed Nobility across hundreds of years, with direct descendants from the 12th century Nobles of Norman, Sicilian, and Spanish overlords still residing in the city; Travelers to Mdina will often hear the city referred to as 'Citta Notabile': The Noble City, for this reason.
Almost entirely closed-off to vehicles, 'The Silent City' is a must-see location while in Malta, highlighting Mediaeval and Baroque architecture throughout the historic, narrow streets. Travelers to Mdina can enjoy several religious and historic sites, leaving one fascinated while roaming the city.
Individuals can enjoy the many historic attractions within the city, including the Knights of Malta experience depicting the courageous stories of the Knights of Malta, the National Museum of Natural History, the Mdina Dungeons, or wander to neighboring town Rabat to visit the original St. Paul's Catacombs. Finish your afternoon with a cappuccino in the Fontanella Tea Garden, overlooking the lush valley and neighboring towns of the Silent City. Mdina is located in the Northern region of Malta, and requires public transport or a vehicle to reach the city. Prepare for a slightly longer transit time, however the wait is well worth it.
Sliema
Opposite of Valletta's Marsamxett Harbour is one of Malta's most developed business districts, Sliema. A bustling city with a reputation for its nightlife scene, Sliema is one of the most convenient areas to live in Malta due to it's easy access to major public transport routes. Individuals living or working in Sliema can easily catch the fast ferry to Valletta, or opt for a public bus, connecting you to various routes heading in directions all over Malta.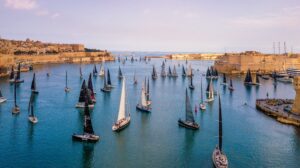 Sliema is home to many major shopping outlets, restaurants and cafes, luxury hotels and apartments, as well as various business ventures, with many Sliema-based businesses operating in the booming iGaming sector.
Sliema is an ideal city in Malta where you can easily maintain a healthy work-life balance. With many bars, cafes, restaurants, and several things to do – coupled with a thriving Expat community – individuals working in Sliema will find themselves fully occupied in this roaring city.
St. Julian's
A beautiful sea-side town known for its night-life and it's rocky beaches, St. Julian's is one of the places to be in Malta. Individuals based in St. Julian's enjoy easy access to the North areas of Malta by means of various public transport routes, as well as the remaining central localities of Gzira, Sliema, and capital city, Valletta.
When one thinks of St. Julian's, many first think of the iconic Spinola Bay, highlighting the traditional Maltese fishing boats throughout the bay, or Portomaso – a luxurious area housing an exclusive marina for super yachts, as well as extravagant restaurants and boutiques.
Although it's main attraction is its nightlife, St. Julian's is a well developed business district, housing various iGaming, FinTech, and SaaS businesses. Another area where one can maintain a healthy work-life balance, individuals based in the sea-side town have a plethora of bars, cafes, or restaurants to stay entertained after a hectic day in the office.
If you're looking for a quicker pace in your day-to-day life – St. Julian's is the town for you.
Coworking spaces in St. Julian's
Gzira
As with the rest of Malta, Gzira is rich with history. Translated from Maltese, Gzira means 'island,' credited to the iconic Manoel Island which lies in the heart of the district. What we know as Manoel Island today was built by Grandmaster Manuel de Villa in 1726. However, if one ventures through the island today, you can find the remains of an old quarantine hospital, constructed in 1634 by Grandmaster Jean-Paul Lascaris to aid individuals suffering from the Plague. Manoel Island also played an essential role for British troops during WW2, using the island as a Naval base due to its unique geographical location.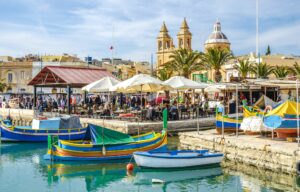 An up-and-coming business district located in central Malta, Gzira has been growing in popularity among Expats in Malta in recent years. Its greatest convenience is how centrally located it is to neighboring towns Sliema, St. Julian's, and a stone's throw away from the capital city Valletta; Gzira is an ideal location for individuals on a budget who are interested in remaining close to these bustling towns, without being caught in the quick pace of said areas. Various public transport routes connect Gzira throughout the Central region of Malta, with public buses also connecting to the Northern region of the island.
Is Malta good for Working?
Depending on your business ideations, Malta can provide the ideal location for your business to thrive. The island provides several options for working via: public spaces, cafes, restaurants, or serviced office providers. Regardless of your workspace preferences, Malta has an option for everyone.
How to choose your location?
When looking for a geographical location to operate your business activities, individuals need to consider several factors before coming to a conclusion. Business owners should consider whether their chosen location provides the opportunity for their business to thrive; Locations which provide optimal:

Light and privacy;

Is in the vicinity of sought after amenities such as cafes, restaurants, or shops;

Or whether the chosen location has a community of fellow entrepreneurs and freelancers;
Are all factors a business owner should consider when choosing the new location for your business.
Entrepreneurs and freelancers who have elected Malta as their chosen location select SOHO Office Space as an ideal workspace solution to operate their business. Offering 3 modern locations in the central region of Malta, business owners can utilize workspaces in Gzira or St. Julian's, surrounded by like-minded individuals while remaining in a radius of Malta's business epicentre.
Light & Privacy
Each business is unique, and so are its needs. A small, but significant factor commonly shared between business owners is the desire for light and privacy in a workspace. A location which supports natural light for your business can ultimately lead to more productivity than one would expect; Natural light is known to provide a calming sensation which leads to a better quality of sleep due to the body's natural circadian rhythms (sleep-wake schedules), resulting in individuals finding themselves more concentrated for business matters at hand.
Depending on the preferences of the individual, obtaining privacy in your chosen location can be in the form of secure furniture to safeguard your personal items or business documents, CCTV cameras, or a location which supports space for an individual to work independently without disruption.
Close to Amenities
Selecting a location close to amenities grants an individual the option to change their workspace by utilizing different cafes or restaurants, or the ability to maintain a healthy work-life balance. Studies conducted by Stanford University have found that 'remote workers who are not tied by a fixed set of office parameters produced higher quality work products, exhibited lower stress levels and were more efficient with time management in both their professional and personal capacities'.
SOHO Office Space's three central locations are located in booming business districts surrounded by cafes, restaurants, shops, and beaches.
Community of fellow entrepreneurs and freelancers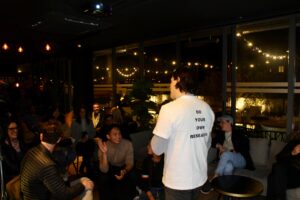 Freelancers or entrepreneurs who have chosen a new location for their business can always find comfort when a booming community of like-minded individuals is developed in the chosen location. Malta provides the ideal location for freelancers and entrepreneurs due to its geographical location, unwavering sunny days, digital nomad visa schemes, and a flourishing start-up community: individuals can find comfort in the many positives Malta provides for remote workers and their flexible lifestyle.
Where is the best place to live in Malta?

Malta's expat scene is booming. Depending on what your requirements are in your chosen location to support your lifestyle will depend on where is the best place to live in Malta.
Individuals who prefer to be in the heart of the action should consider localities such as St. Julian's, Sliema, Gzira, or Valletta. Districts known for their nightlife and abundance of cafes and restaurants, individuals will never have a dull moment when living in these localities.
For individuals looking for a quieter pace or a family-friendly area, localities such as Swieqi, Pembroke, and San Gwann, often referred to as the 'suburbs' of Malta, may be the most ideal areas. These localities feature diverse international schools, are close to hospitals and the University of Malta, while remaining within the bounds of the above-mentioned booming business districts of the island. One can also consider the island of Gozo: The small island provides a tranquil, easy-going lifestyle, with a very low number of residents living full-time on the island.
In conclusion, freelancers or entrepreneurs looking for the best places to work in Malta can find comfort in the numerous options Malta provides for flexible workers. Individuals looking for a location which is close to essential amenities and a thriving entrepreneurial community, while providing light and privacy, should consider a workspace membership with SOHO Office Space.
Regardless of whether you are a:
Freelancer looking for workspace in the heart of Malta's business districts;

Remote worker looking for temporary business services;

Start-up looking for adaptable growth solutions;

Small, medium-sized, or larger company evaluating business potential in Malta and/or expansion into adjacent markets;
With SOHO, your ideal workspace solution is here. Contact the SOHO Team for your customized workspace quotation.