One of the perks of being a freelancer or remote worker is the ability to be in control over where you want to work. Your choice of location ultimately depends on an environment that will best contribute to your inspiration, productivity, creativity, and overall well-being.  
Studies conducted by Stanford University have found that 'remote workers who are not tied by a fixed set of office parameters produced higher quality work products, exhibited lower stress levels and were more efficient with time management in both their professional and personal capacities'.
So while for some inspiration, creativity, and productivity may come: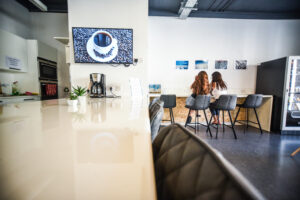 whilst sitting in their favourite local cafe enjoying a cappuccino; 

or perhaps sitting on one of the public benches situated along the Sliema promenade overlooking the Mediterranean;

for others, it is simply sitting on their couch in the comfort of their own home. 
However, while the above working environments do work for some, for others the distractions from;
the chatter of other patrons in the cafés

unreliable network connections

the flow of the traffic noise in the background  

and the untimely interruptions from family members and/or your pet's sudden urges 
may inadvertently interfere with your productivity. A lack of productivity equals a loss in profitability. Ill-timed distractions could also end up hurting your brand image. In the business world, appearances do count. Your brand image and business location are a direct reflection of your commitment to success and reputation. 
Location is key
SOHO Office Space offers a dynamic environment that inspires creativity and productivity. 
Regardless of whether you are a: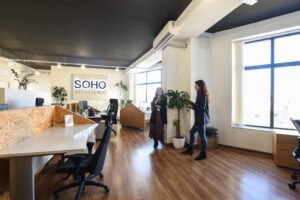 Freelancer looking to work in an office away from a home office

Remote worker looking for temporary business services

Start-up looking for adaptable growth solutions

Small, medium-sized, or larger company evaluating business potential in Malta and/or expansion into adjacent markets
With SOHO, your ideal workspace solution is here.
SOHO Office Space offers:
Flexibility and Control 
Location 
3 prominent Office centres in Sliema, St.Julian's, and Gzira, in Malta's most sought after business district.
Exclusive Membership Plans
With Over 4.5k sqm of office space, SOHO is the largest provider of office space in Malta. 
Take your pick from SOHO's Affordable and Flexible Dedicated Workspaces that include:
and your choice of membership plan exclusively tailored to fit your business needs. 
Eco-Friendly 
Fully furnished, modern, bright, spacious, and ergonomically designed, eco-friendly offices ready to move in. 
SOHO's Signature Amenities 
Access to an array of high-quality amenities that include: 
SOHO's Essential Commercial Services
Serviced Reception

Mail and Printing Services
Connectivity
High-End Digital Technology

IT Support

Interactive and Intuitive Technology in all their Meeting Rooms
SOHO's Tangible Amenities
Fully Serviced Kitchen with complimentary fresh brewed coffee, steeped tea, infused water 

SOHO Lunches and snacks

CCTV. Round the clock video surveillance and alarm systems throughout
Positive Distraction 
Get creative as you sit, brainstorm, exchange ideas, and relax with like-minded professionals at one of the cafes next to our business centres where in-house members enjoy exclusive discounts. 
Re-energize in SOHO's Members Lounge, featuring terraces overlooking some of the best coastal views of the Mediterranean in Malta.
Find your inspiration as you lie on the hammock in SOHO's chill out area.
Fitness Facilities / Yoga
De-stress in SOHO's new fitness facilities or join us for a class of Morning Yoga.
At SOHO we connect members
Are you looking for a fun community vibe that does not revolve just around your local internet cafe?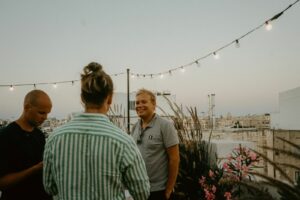 Then we welcome you to join SOHO's community and enjoy a series of 'responsible events' in SOHO's Lounge area. Whether it's board games or movie nights, SOHO always has something special planned every week throughout the calendar month year-round.
And much more…
Come Find Your Inspiration. Work, Connect, and Grow With SOHO Office Space.