According to statistics issued by the Malta Chamber of Commerce, over the last two-year period, there was an average of 25 new companies being registered every day. By the end of July 2020, the total number of registered companies in The Malta Trade Registry amounted to an impressive 86,000.  
Based on this data, it is not surprising that the demand to rent office space in Malta exceeds market supply. Office space in Malta is currently at a premium.
Typically, in Malta, most of the office space advertised in the commercial directories is available for rent in an 'unfurnished' state. 
With this in mind, it is wise to draw up a budget to sum up any additional expenses that you may incur, including; 
Monthly Rent

Relocation costs

Purchasing and/or Leasing of office furniture and equipment

Extra fees

Utility bills

Maintenance and/or Repair costs
Factoring in advance the above costs in your budget will help you assess affordability. 
Monthly Rent
Rent pricing varies. It is dependent on your location — location is key — and floor plan layout preferences. These will determine what the value of your monthly rent will be.
Business districts in Malta are divided into 5 group areas;
North

West and South

Central

Northeast

Harbor 
According to today's market assessments, arguably the northeastern district is the most sought after commercial real estate in Malta. The northeastern region includes; Sliema, Gzira, St. Julian's and their immediate surrounding areas. 
Modern infrastructure; 

Close proximity to a vast array of amenities;

A young, vibrant international community; 

A cosmopolitan lifestyle;

And it's beautiful geography; 
have all contributed to elevating the status of this region, which is now recognized as the most prominent business district in Malta. It is the preferred choice for multinational companies seeking to open or relocating their offices in Malta.
Rent in Malta is calculated per square metre and per annum. To note, rent in Malta varies and landlords set their own monthly rates. Therefore, the following analysis as listed on Office Space.Rent are just an approximate indication of what the present market in Malta can bear. These figures will help to provide you with a rough estimate whilst drawing up a budget to cover most of your upfront costs.
Malta's Business Districts;
North Areas – such as Bugibba and Mellieha
€100 – €130/sqm/yearly
West and South Areas – such as Qormi and Luqa
€120 – €180/sqm/yearly
Central Areas – such as Mriehel and Naxxar
€150 – €250/sqm/yearly
Northeast Areas – such as Sliema, St. Julian's, and Gzira
€290 – €1000/sqm/yearly
Harbor Areas – such as Floriana, Valletta, and Msida
€200 – €300/sqm/yearly
Relocation Costs
Relocation costs are dependent on distance and the hourly rate, as quoted and projected by movers for hauling from one office space to another.
Purchasing and/or Leasing of office furniture and equipment
There are a lot of retail outlets that specialize in office furniture. Prices do vary. Your cost will reflect quantity, preferred style, and quality.
Extra Fees 
Typically these extra fees may include the cost of installing and setting up of Wi-Fi and additional outlets for your electronics, together with an administrative fee for the transferring of power and water supply utility accounts towards your new address. 
Utility Bills
Fees are dependent on consumption.
Maintenance and / or Repair Costs
These costs will vary and may not be consistent with all commercial landlords. To get an idea of what your responsibilities may entail, it is advisable to discuss these costs upfront. Any verbal agreements discussed should be included in writing on your new lease contract to avoid any misunderstandings that may end up costing you unnecessary costs. 
Finding the right office space is a huge investment and the sheer amount of capital required upfront can be substantial. 
With a SOHO office, all of your budgetary needs have already been taken into account.
SOHO Office Space offers;
Over 4.5k sqm of office space spread across 3 business centres, located in Sliema, Gzira, and St. Julian's. SOHO Office Space is the largest provider of office space in Malta. 
Fully Furnished — modern, bright, spacious, and ergonomically designed offices ready to move in.
Affordable and Flexible — Lease contracts, where clients have the option to upgrade or downgrade to accommodate their business needs.
Commercial and Essential Amenities that include; Serviced Reception, High-End Digital Technology, IT Support, Mail and Printing Services.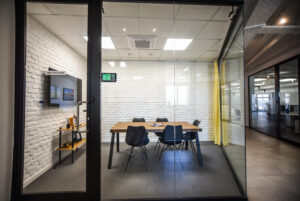 Tangible Amenities that include; Meeting Rooms, Boardrooms, Skype Rooms, Podcast Rooms, Lounge Areas, Event Area, and a fully serviced Kitchen Area.
Extra Benefits that include; SOHO Lunches, Beverages, and Snacks.
SOHO Community — SOHO Office Space promotes and hosts a series of many social 'Responsible Events', including Seminars and Networking events for our members throughout the calendar month year-round.
Peace of Mind — CCTV. Round the clock video surveillance and alarm systems throughout. 24/7 access to all of our business centres.
And more!
Enjoy A Stress-Free Experience. Have Confidence That You Have Made A Cost-Effective Decision With An Office at SOHO Office Space.