We're expanding our catering services and offering to SOHO members an opportunity to organise a private dinner at Members Lounge with a set menu created by our in-house chef.
It is always a nice idea to arrange a small gathering with your colleagues and friends and spend a remarkable evening enjoying amazing food in a relaxing atmosphere.
This type of event can be perfect for team building, a company presentation, birthday celebrations or a welcoming dinner for a new employee.
As soon as COVID-19 restrictions are lifted and guests are allowed to enter SOHO premises, Members Lounge can become a nice venue for meetings with clients and business dinners.
We've prepared 4 types of set menus suitable for various occasions with different price ranges. All menus can be discussed with the chef and customised according to your preferences.
Here's a few menus we're offering now:
Menu Extravaganza
Bistro Menu
Burger Menu
Finger Food Menu
MENU EXTRAVAGANZA
Set menu "Extravaganza" offers more than just a regular dinner event. It is an exclusive dining experience with 5 course meal thoughtfully created by the private chef with 25 years of experience.
Our chef will take you into a journey of delicacies and tastes with his freshly prepared seasonal meals.
All dishes from the menu "Extravaganza" are sophisticated and unique, cooked from high-quality, fresh ingredients and served with elegance and knowledge of the dining experience.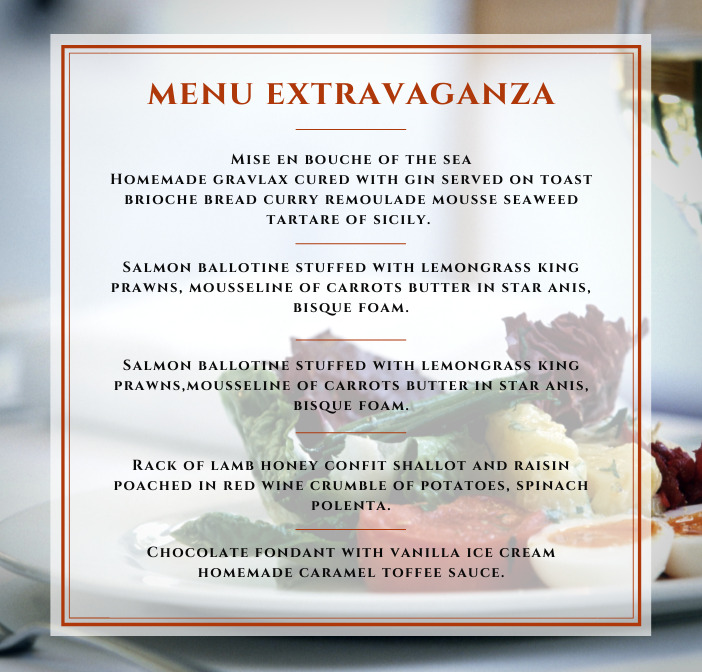 A fine wine, charming atmosphere and the stunning view of the Marina will compliment this delicious meal creating a true dining experience. A particular choice of wine to go with each course will be recommended by the chef.
Price: € 65 / person (excl. VAT)*
*Drinks are not included.
Organise your lavish dinner with the "Extravaganza" Menu by sending an email to catering@sohomalta.com!
BISTRO MENU
"Bistro" menu is a great choice for a casual dinner for any occasion. The menu offers a 4 course meal with portions to satisfy even the hungriest of clients.
We use only the finest local and foreign products in order to make your meal in accordance to tradition.
The "Bistro" menu is designed around seasonal ingredients and dynamic flavours, fused together by our talented French chef, and served by the dedicated SOHO catering team.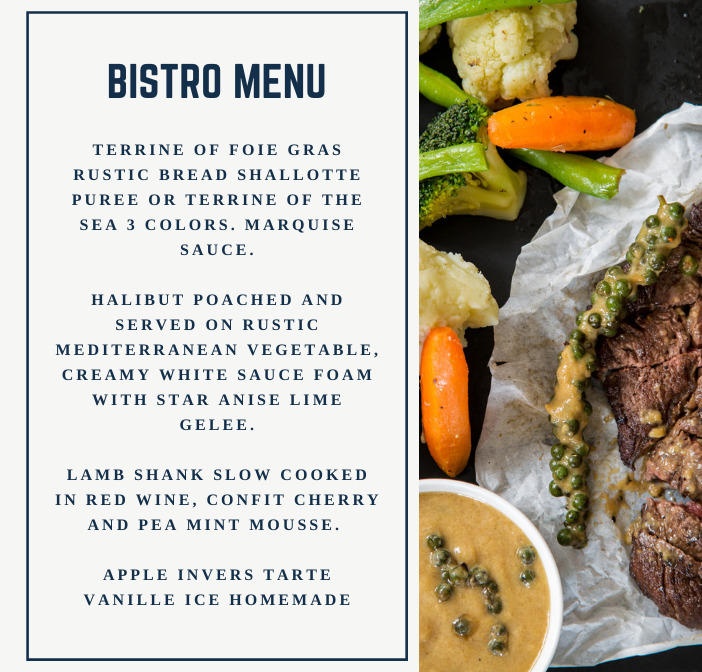 Wine and drinks menu with a selection of beverages is available at the bar. Ask our chef for his recommendations for the best dining experience.
Price: € 40 / person (excl. VAT)*
*Drinks are not included.
Book your "Bistro" menu now by sending an email to catering@sohomalta.com and enjoy a relaxed evening with great quality food and drinks in a cosy and serene atmosphere.
HOME-MADE BURGERS
If you have that irresistible craving for a juicy burger then our "Home-made Burger" menu is definitely for you.
SOHO home-made burgers are truly delicious and made with love using only fresh, local ingredients.
We offer 4 types of burgers including a vegetarian option. All burgers are grilled to your liking and served with potato wedges.
Selection of beers and other beverages are available from our drinks menu.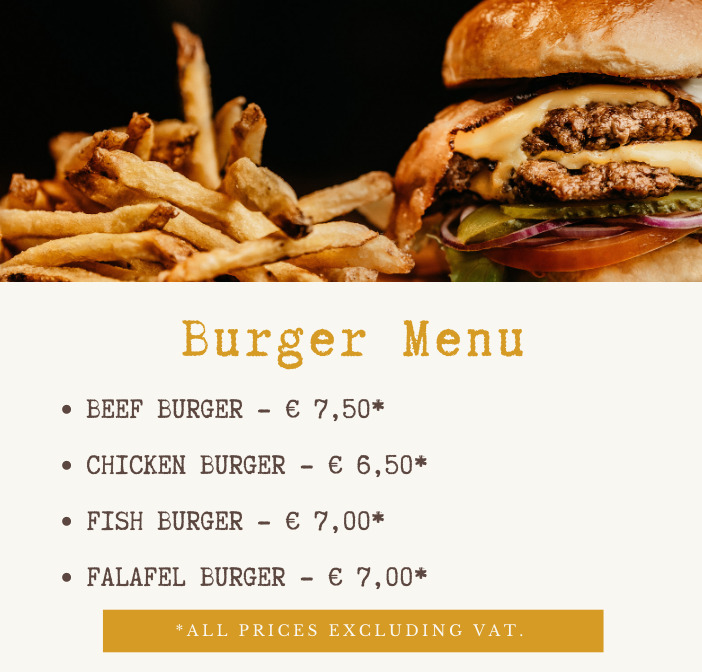 *All prices excluding VAT. Drinks are not included.
Send an email to catering@sohomalta.com and order home-made burgers for a fun evening out at SOHO Members Lounge with your friends and colleagues!
FINGER FOOD MENU
We all know it's best to prevent hanger before it begins! This is why classic appetizers are a 'must' for any get-together. It's attractive, delicious and easy!
SOHO "Finger Food" menu offers the best snack ideas for any types of gatherings.
There is no better way to cheat the hunger than have some bites from SOHO "Finger Food" menu!
Light snacks from "Finger Food" menu can be served as an appetizer during the whole event or as a starter before a sit down dinner.
You can create mixed easy-to-eat platters, choosing snacks from our menu and order as many pieces as you want depending on the amount of guests you have during the evening!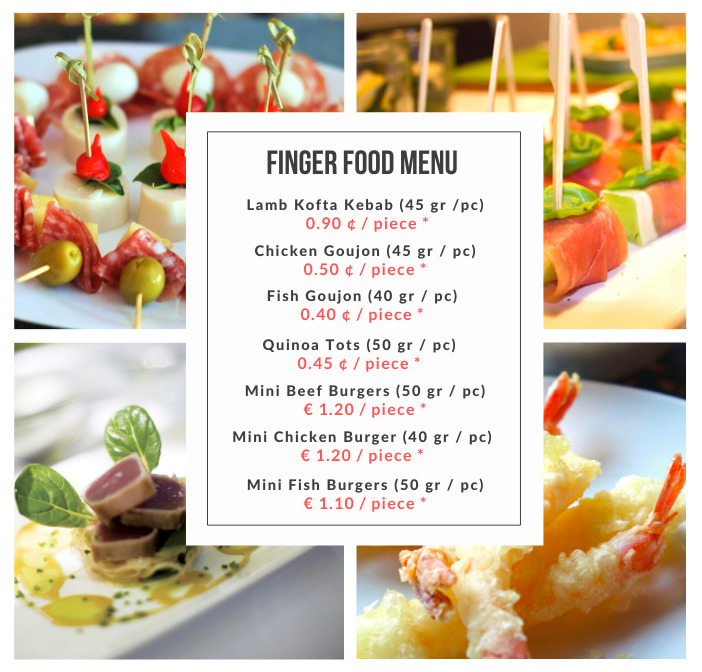 *All prices excluding VAT. Drinks are not included.
Take your party to the next level with our finger food ideas! Book an event by sending an email to catering@sohomalta.com!
CUSTOMISED MENU
While offering evening set menus, this doesn't mean we're not flexible. Our talented chef is ready to create a 100% customised menu according to your special requests.
You name it and SOHO chef will make it!
Missing food from your home country?
No problem! Our chef can cook Italian, Russian, Scandinavian, French, Asian, or Mediterranean cuisine for you…
Don't have inspiration?
Don't worry! Tell us your budget and preferences and we'll create a few menu options for you to choose from.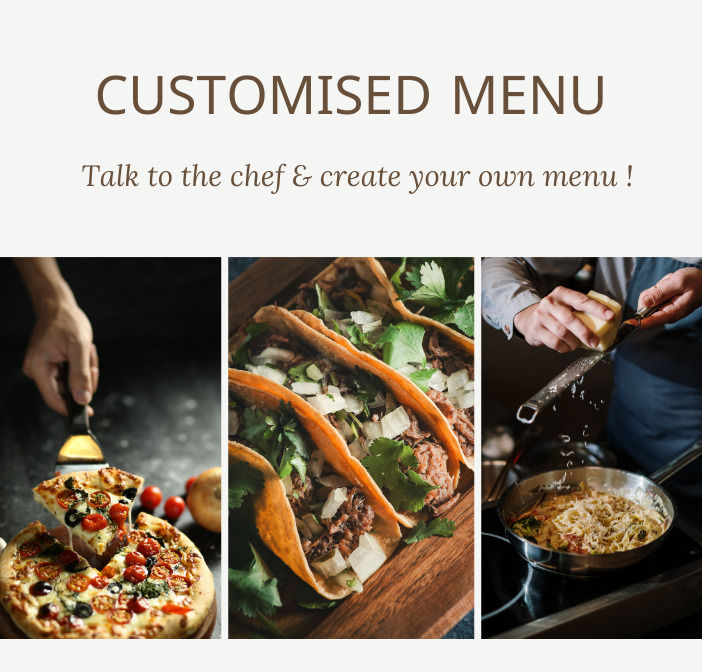 All customised dinner menus are created individually by the chef considering your taste, preferences, allergies, and budget.
Send an email to catering@sohomalta.com to set up a meeting with SOHO chef, Nicolas, to discuss your dinner ideas.
TERMS & CONDITIONS:
Due to the COVID-19 regulations dinner can be booked for SOHO members only.
Dinner can be ordered by sending an email to catering@sohomalta.com 2 weeks in advance.
50% advance payment is required for booking.
Deposit can be paid by card or added to the company monthly invoice.
Maximum number of guests allowed – 15. There is no minimum.
Event can be held any evening from Monday to Friday.
The earliest dinner can start at 6 PM. Final call is at 9 PM.
All drinks can be purchased by guests individually at the bar or added to the total dinner bill.
Extra services such as live music, birthday cake, special decorations, etc. can be arranged at extra costs. Budget must be discussed in advance.
Special requests or changes in the menu has to be discussed at least 10 days prior the event.