It is a known fact to many that Malta is the smallest country in Europe; however, with a population of roughly 493,559 persons residing here, it begs the question: how does such a densely populated country get around on such a small island?
Many people in Malta are using their car for travel, but there are many other possibilities to get around in Malta; buses, taxis, electric scooters, rental cars, and more are readily available for travelling within the island.
So, what would be the easiest way for getting around if you plan to come to Malta?
Make sure to read our guide on the cost of living in Malta before picking how you'll get around in Malta!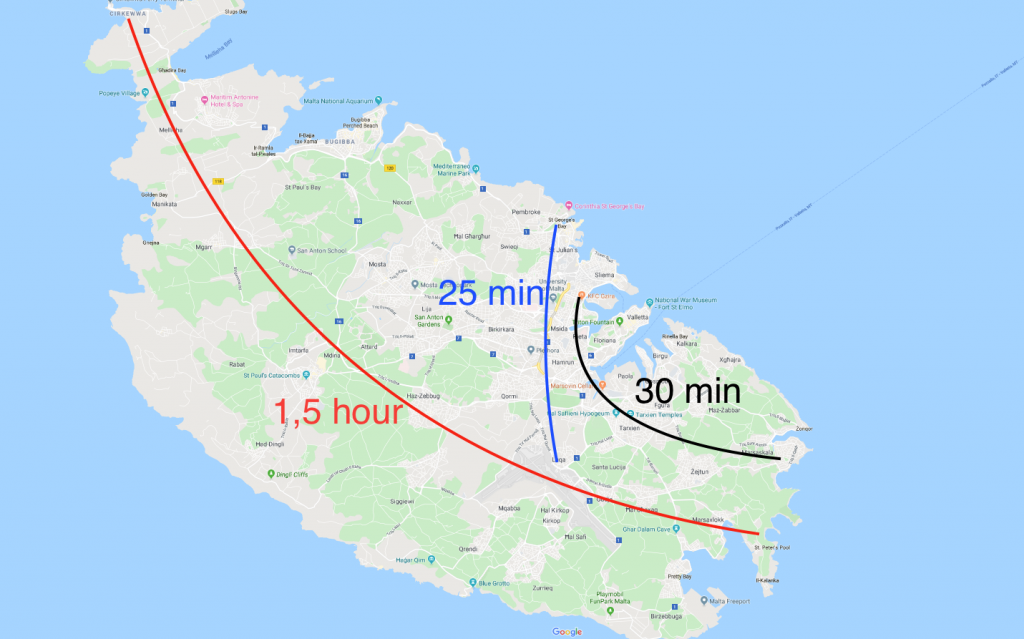 Size of Malta
Malta is one of the smallest countries in the world; at around 27km long by 14km wide, totalling around 316 square km, it's neighbouring island Gozo is even smaller with 67 square km.
One of the perks of being on such a small island is the convenience of travel, everywhere is relatively close to you.
As a general rule of thumb, getting around from place to place would usually take around 30 minutes unless you are travelling from one side of the island to the other, which would take roughly 1 hour. If you are residing somewhere in the Sliema, St Julian's, or Pembroke areas, then most places would only take around half an hour, if not less, to navigate through.

Public Transport
As many people are residing on the island, Malta can become quite a congested place.
Because of the population size, our small island has an abundance of citizens who rely on cars as their main mode of transportation. Malta has a public bus system which is efficient, but during rush hour it is unreliable, this can be from 7am – 9:30am in the morning, and in the evening from 4pm – 7pm.
With the amount of traffic during these times, buses are commonly unable to meet their scheduled time. It is advised to check the travel times of the bus you are interested in taking ahead of time and arranging your travel route to correlate with other possible bus routes in case of full or missed buses.
The buses in Malta are equipped with wifi and due to the immense heat that the country experiences in summer all buses are equipped with an AC.
In the summer months, the bus timetable changes due to an influx of tourists, so certain routes become more frequent. This is something to look out for! If you are in the Sliema, St Julian's, Gzira, Pembroke, Mellieha, or Rabat areas, buses are usually fuller in the summer months due to the immense tourist attractions in these areas.If you are planning to bus somewhere, make sure you check the timetable at each posted bus stop to see the frequency of buses passing, in case the bus is full and you will need to wait for the next one.
In 2018, 2.5 million tourists travelled to Malta throughout the year, with which a major percent of that number was in summer.
You can imagine the sudden increase of people residing in Malta between the months of June to September certainly effect the methods of public transport.
Alternatively, people opt to walk on the promenade in the central areas of the island where available, bicycle, and recently, electric scooters have become a huge hit with expats in Malta as a means for transport.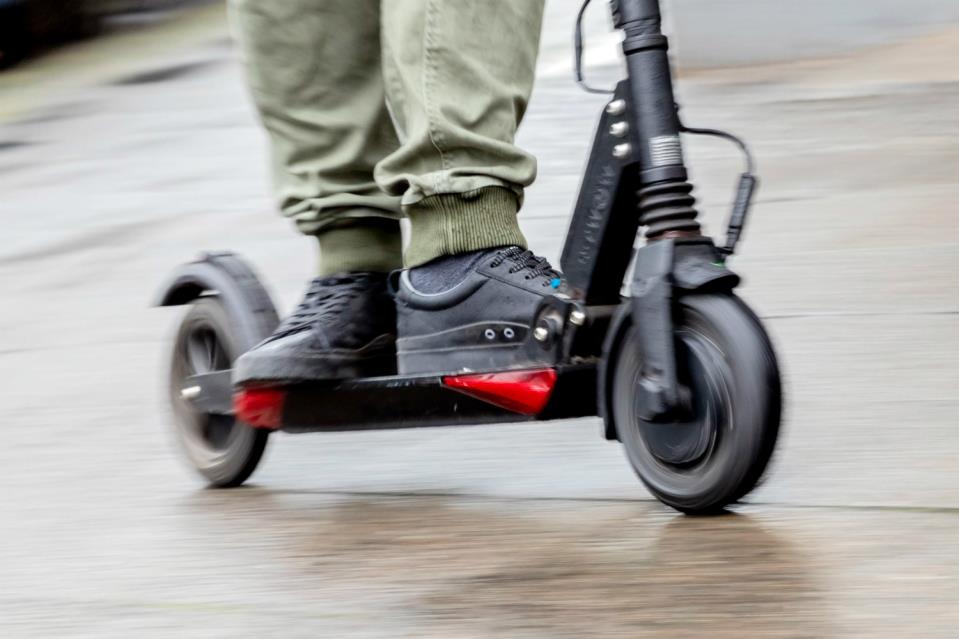 Rent a Car
If you come to Malta for holidays or for Business, the best way to travel in Malta is to rent a car. It is advised not to travel in the central areas around 5pm unless otherwise needed, due to the immense traffic.
You can pre-book a car through various companies online and the car will wait for you at the airport, or you can hire a car directly from the airport once landed.
Taxi
Alternatively, if you do not wish to use public transport you can always opt for booking a taxi.
There is a taxi booth stationed exactly as you exit the luggage collection at the airport, the drivers are always ready to take you where you need to go.
Usually, taxis from Luqa to St. Julian's charge a flat rate of €20, but if you will be residing in Gozo, a taxi from the airport to the ferry will cost you about €35.
The best taxi companies in Malta are Bolt, Ecabs and Cool Ride-Pooling.
Ferry
The ferry which takes you to the quieter, more peaceful sister island, Gozo, will cost you €4.65 at the standard fare. For children, it will cost €1.15, and if you are taking a car with you, the price raises to €15.70 which includes 1 car and 1 standard ticket.
See the full Gozo Ferry Schedule here!
There is also a ferry operating from the Sliema promenade, in the central area of the island. This ferry takes you across the harbour to the Valletta bastions, leaving you at one of the entry points of Valletta. Enjoy exploring the walled city through side streets, located steps away from the ferry terminal.
See the Sliema – Valletta Ferry Schedule here!
Alternatives
When it comes to alternative modes of travelling in Malta, electric scooters are the latest preferred mode of unique travel. If you are residing in a place which allows for such transport to be used, electric scooters are a very easy and energy efficient way of getting around in Malta.
NextBike is a new innovative way to travel Malta in an eco-friendly way, while gaining valuable exercise. With 400 bikes and 60 stations located across Malta, locating a bike is seamless. To rent the bike, simply log into the app or website and use the code on the bicycle to 'unlock' your NextBike. Scan the QR code, wait for an SMS with a 4-digit code, input it into the NextBike, and enjoy the ride!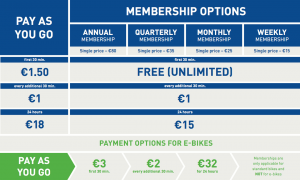 Final Words
Malta is a very small country and getting around is not a big problem.
The best way to get around Malta is the most suitable option for you, one which makes the most sense in your routine while on the island.
If you can opt-in using alternative, green methods in daily life, do so! Cycling, walking, using a scooter, or catching a bus, these are all great alternative options to implement into your daily travel routine.
Coming to Malta and in need of a serviced workstation? Check out our flexible coworking space conveniences. 
Interested in taking your private office experience to the next level? Book a free tour of our private office solutions, or contact us at [email protected] or call us +356 99334333