Gym Rules Updates applying from May 24, 2021: no need to book the SOHO gym! Workout together!

Members can use the SOHO gym 24/7 and that includes weekends as well, so make yourself at home and start working out!
Before you settle in, please make sure you read and follow our gym rules:
ALWAYS REMEMBER:
Keep your shirt on during the workout.
Disinfect all the equipment you have used.
After using the equipment place it where it belongs.
Punching bags can ONLY be hung in the installed clamps, NOT directly on the metal bars.
Do NOT place the barbell up against the wall.
Close the windows while AC is on.
Make sure you turn off the lights when you are the last one out.
Switch off AC when you've finished.
To make sure everybody is familiar with the GYM RULES we're introducing a SOHO gym agreement which has to be signed by each gym user.
The agreements will be available at the reception of each SOHO location. Please read the rules carefully before signing it.
We will be frequently checking if Members are following the gym rules and consequences will follow to those who ignore them.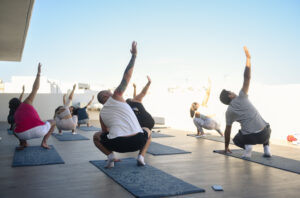 We hope you make the most out of the facilities and we'll see you there.
Also, don't forget we have free SOHO Yoga Classes for members every Tuesday and Thursday from 7:50am til 8:50am in the SOHO Gym. Yoga will be resumed from June 8.
Join SOHO Morning Yoga Session and start your day with a peaceful mind!