Calculating how much money to invest into your workspace can be a challenge, as there are many factors to be considered. Your ideal office space should be large enough to host each of the departments within your business, promote employee efficiency, and cater to a wide range of your business needs.
Before committing to a workspace based on the price tag, you first need to understand how much office space your business needs.
Keep in mind:
The number of employees you currently employ.
The allocation of additional room for business growth.
The departmental space requirements.
The number of office equipment and/or furniture you have or may need to purchase.
The overall floor space that is required especially if you are considering implementing an agile working structure.
The style of the office that will work best for your organization.
Because:
Office Wastage may lead to: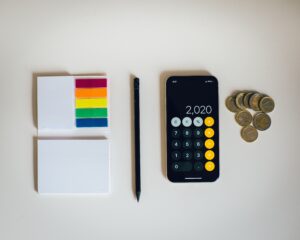 Unnecessary costs on higher rent and associated fees.
A hindering in productivity.
A negative impact on the company brand.
Whereas too little office space will:
Limit business growth due to absenteeism, concentration problems, and low morale.
Affect HR recruitment.
Add on expenses if you need to relocate before your commercial lease is up.
Based on your company size, the below figures will assist on how much workspace will be required for your business to thrive within an office space in Malta:
Private or Shared Office
*Approximate measurements. Figures rounded.
| | |
| --- | --- |
| Large | 18sqm – 37sqm |
| Medium | 13sqm – 23sqm |
| Small | 8sqm – 13sqm |
| Open Space Workstation | 5sqm – 10sqm / employee |
| Work Group Areas | 7sqm – 9sqm / employee |
Executive
| | |
| --- | --- |
| President's and/or Chairman of the Board's Office: | 18sqm -37sqm |
| Vice-President's Office | 13sqm – 23sqm |
| Administrative Office | 9sqm – 14sqm |
Communal Areas
Boardroom and Meeting Room:

Seating for 10-14 people

6 – 8 people

2 – 4 people

25sqm – 39sqm18sqm

13sqm

Server Room/Stationary Room/File Room
8sqm – 12sqm
Reception Area:

Receptionist plus space for 2 – 4 people

Receptionist plus space for 6 – 8 people

18sqm – 26sqm7

26sqm – 36sqm

Lunch room / Canteen
10sqm – 30sqm

which includes: 1.39sqm / employee

Kitchen
6sqm – 12sqm
Once you've decided on the size of the space you believe your business will need, next you will have to consider the location of where you want your business to be based.
Location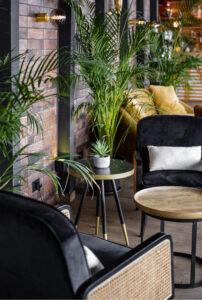 Choosing an office space in Malta may appear simple, but in actuality it's no easy feat. When choosing where to base your business in Malta, your first factor to consider is what area is your business going to thrive in the most. Are you an iGaming company looking to build new connections? Perhaps an office space in the Northeast Areas of Malta (Sliema, St. Julian's, Gzira) where many iGaming companies have found their base will be the most ideal option. Does your business rely on regular trips abroad? Perhaps an office space located close to the Airport in the South Areas of Malta (Luqa) will be the most ideal location to set up your business headquarters.
Rent in Malta is calculated per square metre and per annum. To note, rent in Malta varies and landlords set their own monthly rates. Therefore, the following analysis as listed on Office Space are just an approximate indication of what the present market in Malta can bear. These figures will help to provide you with a rough estimate whilst drawing up a budget to cover most of your upfront costs.
Malta's Business Districts;
North Areas – such as Bugibba and Mellieha
€100 – €130/sqm/yearly
West and South Areas – such as Qormi and Luqa
€100 – €180/sqm/yearly
Central Areas – such as Mriehel and Naxxar
€130 – €220/sqm/yearly
Northeast Areas – such as Sliema, St. Julian's, and Gzira
€230 – €600/sqm/yearly
Harbor Areas – such as Floriana, Valletta, and Msida
€150 – €300/sqm/yearly
As anywhere, depending on which area you select to base your business will come with varying price points. Offices located in the Northeast Areas of Malta are typically priced higher, as these areas host some of the most developed business districts in Malta. Office spaces are more competitive in this area due to the sectors with their business headquarters in these areas, such as: iGaming, AI & Blockchain, SaaS, and more.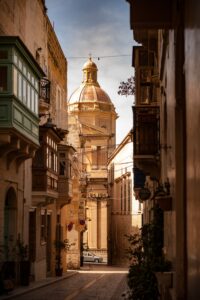 With the high rate of expats living in Malta with careers crossing over into the above noted sectors, many people want to be based in these Northeast areas such as St. Julian's, Gzira, Sliema, Msida, and Ta Xbiex, as they provide the work-life balance many are seeking. You also will find a wide range of convenient amenities and services in these areas, which may be more difficult to find in the rural areas of Malta.
Alternatively, an office space in the South, North, or Central areas of Malta can be a big budget saver. The farther away you get from the Northeast area, the lower the pricing gets. You can find a great office space based on your business needs in these areas, but you will then have to consider additional costs your employees may have, such as: transiting to the workplace daily and relocation costs.
Explore 360 serviced office space opportunities with SOHO Office Space
SOHO Office Space provides stress-free, all-in workspace solutions that are tailored to support all of your business needs and flexibility.
SOHO offers:
4.5k sqm of modern office space from 3 upscale business centers, conveniently located in the most prominent business districts in Malta.
A choice of over 70 Private Office Suites, and designated coworking spaces that are fully furnished and equipped, ready to move in.
Multiple Conference and Meeting Room facilities.
Exclusive Office Memberships.
Flexible Lease Contracts.
Options to easily Upgrade.
SOHO's Signature Amenities:
Gym & Sauna
Members Lounge
In-house restaurant and bar
Rooftop and patio terraces
State of the art event spaces
Fully serviced kitchens
BBQ area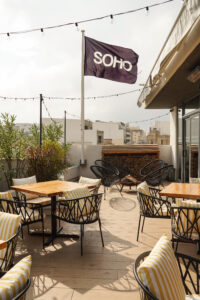 SOHO's Community:
Weekly social and networking events
Weekly gym classes with trainers: yoga, core workouts, and boxing classes
Discounts and special deals from partners in our business community
Exclusive, private dining opportunities
And much more…
Make Your Company's First Impression With Your Client's A Lasting One With An Office Space In Malta with SOHO