This week's recipe is a classic and delicious dish. You can enjoy it during hot summer, and it will comfort you during cold winter. The recipe is very simple and your meal can be prepared in no time!
Stir Fried Chicken Noodles!
The dish we had for lunch on Thursday last week.
Remember (!) that fresh ingredients will make your meal healthier and a boost your immune system. So scrumptious!
So, let's hop quickly to the recipe.
This is what you need:
1 1/4 pounds boneless, skinless chicken breasts — or thighs — thinly sliced, then cut into bite-sized pieces
4 tablespoons soy sauce plus additional to taste
4 cloves garlic, minced
2-3 chilies for heat (if you enjoy spice, add more!)
3 tablespoons hoisin sauce
1 tablespoon minced, fresh ginger
2 tablespoon rice wine vinegar
2 tablespoons grape seed oil or canola oil, divided
6 ounces dry, long noodles (of your choice – we recommend Rice Noodles)
6 tablespoons of sesame oil
1 ½ eggs

Additional:
fresh coriander for garnish
crushed peanuts
sriracha
Our amazing chef, Nicholas, shared some thoughts on how to make a proper stir fry.
"It is a dish you can recreate following your own wishes — but the must have ingredients, are: good sesame oil, fresh garlic, chili, and ginger. Those ingredients aren't only a proper immune boost, but they also add an amazing flavor to this dish."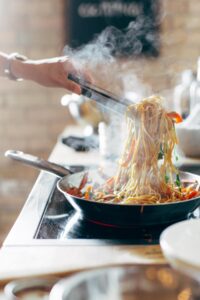 Let's start with preparations. (Since this dish is a quick one – we need all ingredients to be prepared in advance.)
Slice the meat ( or protein of  your choice),
Chop the ginger, garlic, chili, and the vegetables you prefer the most.
Cook the rice noodles as it says on the package. (Don't overcook them since they will be cooked in the skillet with the other ingredients  as well)
Now, the cooking part starts!
Heat up your oil and fry the chicken for 3-4 minutes, then remove it from the pan.
After that, put another tablespoon of oil in the pan and fry the ginger, garlic, and chili for a minute.
Then, put your veggies of choice in. Cook them for 3-4 minutes.
Add 4 tablespoons soy sauce, 3 tablespoons hoisin sauce, 2 tablespoon rice wine vinegar, then let it simmer for one minute.
Add the cooked noodles, chicken, sriracha ( if you like it) and an egg ( also your choice) to the noodles.
Stir it and let it cook for another minute.
Place it on a plate and serve it with fresh coriander and crushed peanuts!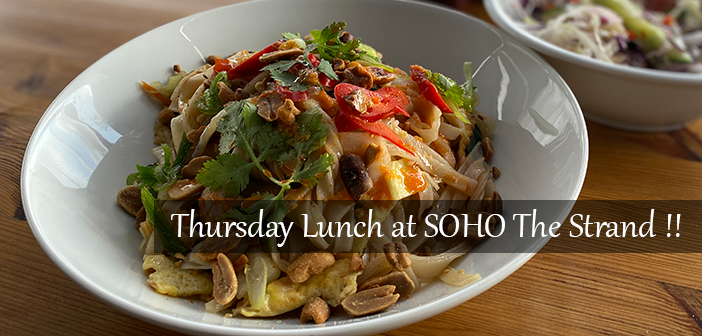 Enjoy!
P.S. If you want to add up even more freshness to your dish, you can make your own chili oil; Cut two big chilies, put it in the blender, add 6 tablespoons of vegetable oil and two pinches of salt and blend it! That's it.