Looking for office space in Malta? You are not alone! Whether you are a freelancer, newly formed company, an international organisation, or anything in between seeking to establish a presence in the marketplace – traditional office space in Malta is currently at a premium.
According to the Malta Chamber of Commerce, on average, 25 new companies have been registered per day over the last two years. Malta's favorable company regulations, including straight-forward registration and competitive tax rates, are reputed to be among the most business-friendly in the European Union. Malta's drive to become the leading business destination for remote gaming, blockchain, and digital technologies continue to drive demand.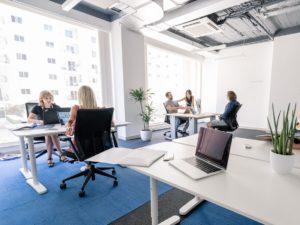 The addition of Malta's cosmopolitan island lifestyle, history, and a highly-skilled English-speaking workforce has contributed to a formula for success for many of the companies located here. As a result, the urgent need for office space in Malta has rapidly exceeded supply and will continue to drive demand for the foreseeable future.
The primary options presented to those individuals or companies who are interested in finding an office space in Malta are:-
Purchasing of Commercial Property
Leasing of Commercial Property
Renting of Fully Serviced Offices
Thanks to social media and the internet, the initial process of searching for office space in Malta is more convenient now than it used to be.
Purchasing Of Commercial Property
The traditional choice of outright purchasing has become costly, complex, and time-consuming. Factoring the size of the island and therefore it's exclusive real estate, finding the right commercial property development in Malta can be a daunting task. As a result, the limited choice of office space in Malta has driven pricing well above historic market values, with more than 100 real estate companies on the island vying to capitalize in this sector.
Leasing of Commercial Property
The demands on the leasing of commercial property have restricted the availability and enabled landlords to demand binding long term agreements that are very difficult to negotiate. Most Commercial properties available on the market are bare, so added costs would include:-
Purchase of office furniture and equipment
Purchase of fixture and fittings
Moving and transport costs
Installation of utilities
Renting of Fully Serviced Offices
This pressure in the marketplace has created an opportunity for flexible leasing terms of fully serviced office space companies in Malta. In this growing sector, individuals and organisations are not bound by complicated or restrictive contracts. Now, companies and individuals are given a choice for temporary, short term, or permanent use of the full, broad range of services these companies have on offer. So, even if purchasing or leasing office space in Malta is a necessity of your business planning, then these types of network companies will provide you with instant professional facilities in the interim while you investigate your ideal locations.
What are these services?
Each of these fully serviced business companies has their own signature offers. However, The commonality of most of their services include:-
Use of Business Lounges
Use of Conference Rooms
Reception
Free WiFi
Printing and Copy Service
Mail and Package Handling
Janitorial Services
SOHO Office Space in Malta is a leading provider in this industry, operating out of three prestigious locations that are strategically positioned in the center of Malta's most sought after business districts. Depending on the nature of your business, each of these different locations provides clients with distinct advantages. At SOHO Office, prospective members are provided with a suite of three tailor-made different types of office space solutions to choose from.
Each of the above working solutions is supported by fully, ready to move in furnished offices, podcast rooms, soundproof Skype rooms, state-of-the-art technology, Plug and Play solutions, with dedicated and professional staff — all geared to suit your business requirements and budget.
Economically, Malta is thriving. The downside to this exponential growth is the continued high demand and lack of office space in Malta. SOHO Office Space understands the challenges inbound companies face. They have built a successful platform by addressing and bringing forth a solution to what the growing market needs. In terms of access to temporary, short term, or ongoing office space in Malta, SOHO Office provides a stress free solution that will support universal office requirements from start to finish.
Book a tour, or phone directly on +356 9933 4333 and one of their staff will gladly assist, guide, and answer all of your inquiries.