The large shift to Work-From-Home due to the Covid-19 pandemic has resulted in millions of office workers now spending the majority of their workday out of the comfort of their own homes. Working from home surely has its perks: cutting out the daily commute to and from the workplace, taking a meeting via Zoom in your pajamas without anyone suspecting, or spending more quality time with your family or pets can bring joy to the unorthodox time we are all facing.
While this can be exciting for workers who are new to work from home methods, utilizing your couch or bed as a workspace on a regular basis isn't going to cut it. For individuals using their home as a full-time workspace, it's essential to insert boundaries between work and life balance: Today's workers shouldn't have to choose between productivity or comfort.
Striking the perfect work-from-home and home-life balance lies in the ability to:
How to find an ideal workspace in your home
How to set up a home office
How work-from-home workers should organize their office space at home.
Pick your New Workspace
First and foremost, you need to find a dedicated workspace within your home that you can transform into a full-time work station.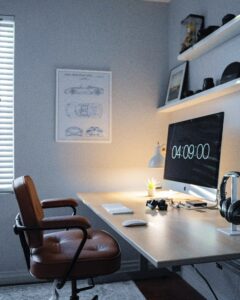 This workspace should be separate from your dedicated personal space (such as a bedroom) to lay the foundation of separating your personal time from work time.
Some key questions to ask yourself when selecting your new home workspace should consist of:
What will you be doing within the workspace?
What kind of work needs to be done?
How much space will need to be allocated for equipment?
Will clients ever need to visit your workspace?
What time of day will you be completing most of your work?
How often will you take meetings via video conference?
These are all vital questions you should ask yourself before jumping into organizing your office space at home.
What are some things to look for in your home office workspace?
After answering the above questions, you should be able to visualize which area of your home will be the most ideal home office set up for your business needs. Unless your work requires complete darkness, your ideal home workspace should be placed next to windows or a naturally lit area of the home. Setting up your workspace next to natural light is proven to promote productivity and overall well-being, so why not start your work-from-home journey on a positive note?
Another key thing to look for in your home office should be the amount of noise within the workspace. Your ideal set up should be located in a space far away from day-to-day distractions like the construction down the street, your neighbors bickering, or the busy noise from the street. If it's not possible to find a work area away from all of the distractions, you want to find the space where the noise is the most muted, or find a good background noise playlist where you can tune out the distractions.
Lastly, does your desired home workspace have the capacity to accommodate your workspace needs? Perhaps your spare bedroom is a no-brainer workspace choice; However, the function of the workspace is dire. Allocate a space where at the end of your working day, you can merely walk away, shut the door and mentally switch off.
How to Set Up a Home Office ?
Now that you've taken into consideration which space of your home to set up your home office, the next step is actually setting up the home office space. This is a space where you're going to spend the majority of your time, so it's essential the workspace works for you and your business needs.
DO'S:
Invest in office furniture such as a desk, bookshelves, and an ergonomically designed chair. Remember to go for comfort when purchasing your new office furniture as you will be spending a lot of time in your new workspace.
Invest in the right electronic equipment such as a: laptop, monitor, a phone line (if possible one that is independent of your personal one), and a good set of wireless noise-reduction headphones.
Invest in high-quality digital technology and software. Upgrade to a business-grade Virtual Private Network (VPN) for encryption. Keep your business secure from a possible cyber breach.
Another important aspect of home offices is establishing the "Work Zones." Work Zones are areas within the dedicated workspace which can be used as a break-out space to keep the mind stimulated, separate which work activity happens in what area of the home office, as well as ultimately keep your homework space organized.
Allocate your main work area: The desk space. This is where the majority of your time during the work-day will be spent. This space should consist of all of your work-day essentials: Computer, relevant technology, or frequently referenced documents.
Dedicate a reflection area: This space should give you the option to get out of your chair and get moving, or as a break-out space to change your work view.
Allocate a space for filing and paperwork: Create a cabinet space dedicated solely for filing or sorting through paperwork. Keep the clutter away from the main work area – your desk!
How to keep your Home office Organized?
Now that you've created your ideal home office, it's essential to maintain the workspace for daily use. Once you've worked your way into a daily routine within your home office, it can seem impossible to find time to organize your office space at home.
Simply rearranging the desk or creating a paperwork pile on one side of the desk doesn't count as organizing your home office: Maintaining a clean workspace will promote higher productivity and waste less time during the workday. Keep the following tips in mind when organizing your home office:
Purge your Home Office: Start with your easiest work zone and clean your way from there. Throw away anything that hasn't been used in a while, something which may be broken or faulty; This includes equipment and furniture. Don't let knick-knacks pile up, redistribute them to areas of your home if it's something you're not ready to let go of yet. Your home office is solely for work.
Gather & Redistribute: Now that you have only things essential to your work within your home office, gather all of the items and redistribute them into their dedicated Work Zones or into a space where they are easily accessible, but out of the way.
Revolutionize your home office with a Label Maker: One of the most important keys to organizing your home office is labeling. Find yourself a label maker that is durable, so labels only need to be changed when you decide to redesign your home office. Take some time to label all of the essential areas within each Work Zone for ultimate success within your home office: Label all of the drawers in your filing unit, your stationary drawers, and equipment drawers. Not only will this save time on finding your work essentials during the workday, you're more prone to maintaining an organized home office.
Clear off your Desktop Regularly: A clean work area will drastically change how you work during the workday. Maintaining an organized home office should consist of weekly cleaning of the work desk; This will start your day successfully, opposed to stressing about if your coworkers can see the clutter in your workspace during each Zoom meeting. Purchase desk organizers or small containers where you can place the items on your desktop without completely removing them from the work area.
Organize your Computer Desktop: Often forgotten about in the home office is your desktop. Not only should you be organizing your home office, but you should also dedicate some time to organizing your desktop computer. What good is a clean home office if your computer is a mess? Separate your files by categories and delete old files that are no longer needed for better organization.
Be sure to use these helpful tips when taking the plunge to working from home on a full-time basis. How much effort you invest into maintaining your home workspace will be a direct reflection of how productive you'll be at work each day, notably without the constant hassle of searching through piles of paperwork day in and day out.
Are you looking to combine work from home with a flexible office space solution? Get back into an office environment and invest in your social life with a flexible coworking membership at SOHO Office Space.
At SOHO we offer flexible and affordable modern office space solutions that meet the needs of today's business environment.
Our exclusive memberships:
are tailored to suit all of your business needs and budget.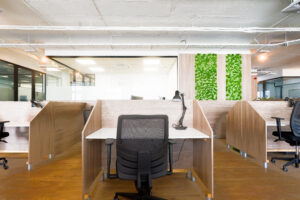 With a SOHO Coworking Space you get to;
Create and take your pick from any one of our Dedicated Work Spaces.
With 24/7 access to either one of our 3 business centers in St. Julian's, Gzira & Sliema you get to Maintain your own Routine.
And through our Community and Networking events you get to Manage your own boundaries.
What does a SOHO Coworking Office Space offer?
Over 4.5k sqm of office space spread across 3 buildings, located in the most prominent business districts. SOHO is the largest provider of office space in Malta.
Fully Furnished — modern, bright, spacious and ergonomically designed offices ready to move in.
Affordable and Flexible — Lease contracts, where clients have the option to upgrade or downgrade to accommodate their business needs.
Essential Services — Serviced Reception,
High-End Digital Technology, IT Support, Mail and Printing Services.
Amenities — Meeting Room, Lounge Areas, Event Area, Skype Rooms, Kitchen Area.
Extra Benefits — SOHO Lunches, Beverages, and Snacks.
SOHO Community — SOHO Malta promotes and hosts a series of many social 'Responsible Events', including Seminars and Networking events for our members throughout the calendar month year-round.
Peace of Mind — CCTV. Round the clock video surveillance and alarm systems throughout.
And more.
For more information on our wide-ranging platform of services;
Send us an email at info@sohomalta.com
Phone us on +356 9933 4333
Follow us on Facebook, Instagram, LinkedIn
Drop-in person at any one of our 3 locations in St Julians, Gzira & Sliema.