Welcome to SOHO Office Space!
Our team is thrilled to welcome you into our awesome SOHO Community, and we look forward to creating a unique workspace experience, tailored for you.
Below, we've created a guide to SOHO Online: this includes a breakdown of our in-house application RnD Connect, social media channels, and other online portals members can join to keep up with the SOHO Community news and updates.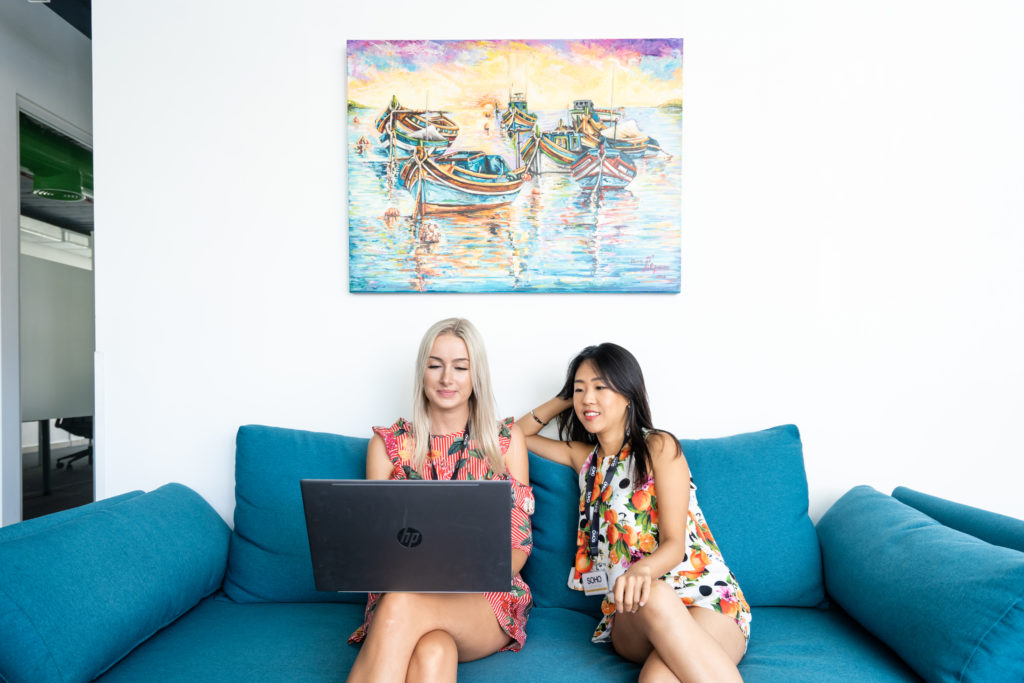 Getting Started – RnD Connect
To get your online SOHO experience started, your Office administrator will ask you to complete the On-Boarding form for new members. Once our team has received this information, we can create your basic profile and invite you to the SOHO Office Community application and communication channels.
It is important to remember, that the email provided in the on-boarding form will be used for Slack channel invitations, for our community application, and be the main point of contact should the SOHO team need to reach you. Please choose carefully between your preferred email address (SOHO team recommend supplying your work email, to stay connected.)
Once the SOHO team has generated a simple profile, you will shortly receive an activation link to the provided email address. The email will consist of a notification to change the temporary password within 24 hours to activate your RnD Connect account, or else the link will become dead. Once creating your new password, you will be input into the SOHO Office Community workspace.
Should you wish to download the app directly to your mobile device, members can search for RnD Connect in the respective Google Play [Android] or iOS App store [Apple] for download. Should you prefer to use the desktop application, you can simply log in here: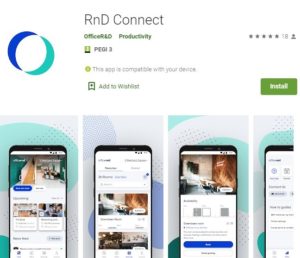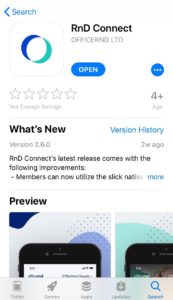 Android Google Play Store Apple App Store
Logged In & Navigating
Once logged into the application, there are many channels for our members to explore.
From the get-go, members will first notice on the homepage the workspace feed – this is where the SOHO team can share updates, events, and messages to all SOHO members.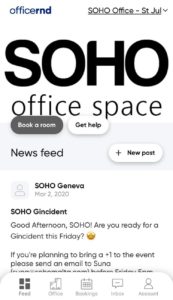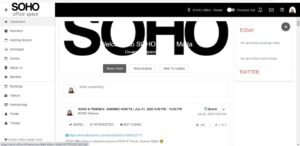 Mobile App Homepage Desktop Homepage
Your next options for navigation on the menu are:
Office: This page is all things about SOHO Office. Find fellow members and their companies in your respective location or across SOHO, check your member benefits in our community, and events at SOHO.
*On the desktop application, this is split up in separate tabs as 'Members,' 'Events,' and 'Benefits.'
Bookings: Book meeting rooms smoothly and quickly! Track your monthly usage, check meeting room availability, or book a meeting room in another SOHO Location.
*Shown as 'Meeting Rooms' on desktop application.
Inbox: Find messages sent by the SOHO team regarding updates and events, or send messages to fellow members!
*Shown as 'Messages' on desktop application.
Account: Change your name, upload that beautiful photo, and make general profile and account changes here.
*Shown as 'Profile' on desktop application, or can be reached by selecting your profile photo, and then 'Profile'.
SOHO On Social Media
Currently, SOHO Office Space can be found on the following social media channels:
Follow our Facebook, LinkedIn, and Instagram pages to keep up with fun SOHO updates and the rest of the SOHO Community!

Other SOHO Communication Channels

As well as our main page social media presence, the SOHO Community reaches further over Facebook in a Private Members Group, SOHO Office Community.
Our personal profile, Soho Malta, will reach out to your Facebook page with a friend request, so we can add you into our additional community channel. Should you wish not to accept, you can always keep up with the community in our alternative community workspace, Slack.
Again, it's quite important your email address provided is one that is frequently used and up to date, so no essential news gets missed. The SOHO team will invite you to the Slack workspace by selecting your provided email, and shortly you'll be added into the workspace channels. Join the channel of your SOHO Location, and join additional channels like #soho-buffet-lunch-menu to keep up with the delicious SOHO Buffet Lunch options.
Welcome brochure
Download a brochure with all necessary links and the detailed guideline for SOHO newbies -> Download Welcome Brochure.
Should you have any questions, concerns, or recommendations – please reach out to SOHO Community Manager, Geneva, at geneva@sohomalta.com.