A workspace that is underutilized often leaves a less ideal impression. 
Assess your Business 
To understand how much office space your business needs, keep in mind the:
The number of employees you currently employ.

The allocation of additional room for business growth.

The departmental space requirements.

The number of office equipment and/or furniture you have or may need to purchase.

The overall floor space that is required especially if you are considering implementing an agile working structure.

The style of the office that will work best for your organisation.
Because:
Office Wastage may lead to:
Unnecessary costs on higher rent and associated fees

A hindering in productivity

A negative impact on the company brand
Whereas too little office space will: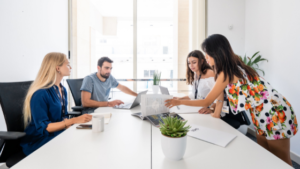 Limit business growth due to absenteeism, concentration problems and low morale

Affect HR recruitment

Add on expenses if you need to relocate before your commercial lease is up
Your Guide for a Highly Efficient Office Space
Private or Shared Office
*Approximate measurements. Figures rounded.
| | |
| --- | --- |
| Large | 18sqm – 37sqm |
| Medium | 13sqm – 23sqm |
| Small |   8sqm – 13sqm |
| Open Space Workstation |   5sqm – 10sqm / employee |
| Work Group Areas |   7sqm –  9sqm / employee |
Executive
| | |
| --- | --- |
| President's and/or Chairman of the Board's Office: | 18sqm -37sqm |
| Vice-President's Office | 13sqm – 23sqm |
| Administrative Office | 9sqm – 14sqm |
Communal Areas
Boardroom and Meeting Room:

Seating for 10-14 people

                    6 –  8 people

                    2 –  4 people

25sqm – 39sqm

18sqm

13sqm

Server Room/Stationary Room/File Room

  8sqm – 12sqm

Reception Area:

Receptionist plus 2 – 4 people

Receptionist plus 6 – 8 people

18sqm – 26sqm

26sqm – 36sqm

Lunch room / Canteen

10sqm-30sqm which includes: 1.39sqm / employee 

Kitchen

6sqm – 12sqm
Common areas such as bathrooms, stairwells and hallways should comprise between 10%-20% of the total usable area. 
How many square metres(sqm) per person of office space does your business need?
There are various suggestions on what is the appropriate measurement of usable office space that should be allocated per person. However, the consensus indicates that allowing between 7sqm to 10sqm per employee is considered a 'comfortable working environment.' This breaks down to:
4sqm  – per employee

1sqm  – desk with drawers that include a top surface workspace for reading and writing and 0.5sqm for  drawers

1sqm  – of workspace for a flat-screen monitor, OR 

2sqm  – of workspace for a deep screen monitor

1sqm  – of storage space, such as a filing cabinet (moveable or not)
The rest is spread out between communal (meeting rooms) and recreation areas (kitchen/canteen).
So, for example, if your workforce totals between:
  

1-5   employees, then you may require between   7sqm – 35sqm

  5-10 employees, then you may require between 35sqm – 70sqm

10-20 employees, then you may require between 70sqm -140sqm
Office Space Calculator:
Let's assume your workforce totals 10 employees. 
For 10 employees a comfortable usable workspace should add up to 70sqm. 
How to calculate many square metres do you need for your office?
                           Employees: 10         = 40sqm (10x4sqm)
                           Flat Screen               = 10sqm (10x1sqm)
                           Desk:
                           Writing Top surface = 15sqm (10×1.5sqm) 
                           Filing Cabinets.        =  5sqm ( 5x1sqm)
                           Total                        =  70sqm
TO NOTE there is 'no one size fits all' solution. The above-mentioned figures are just an approximate guideline to assist business owners in their search for the right office space. They may not necessarily reflect what is available in your commercial district of choice. 
What are the 3 main criteria business owners should factor in when calculating how much office space their business truly needs?
Recommended measurements can vary between different professions and/or businesses and are dependent on:
The type of work
Distinct professions:
such as lawyers, architects or call centres, 

professionals who spend the majority of their working day outside of the office,

individuals whose job entails prolonged hours in the office,
the above indicative figures may not be an accurate representation of their perceived office space needs. 
Employee Morale
A less stressed and functional physical workspace increases productivity. Productivity = profitability.
Company Culture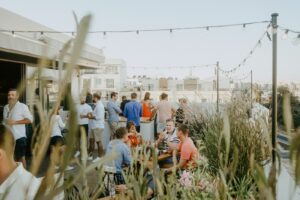 How much office space is needed will differ from one company to another. Ultimately it will all depend on the company culture and its management structure.
All employers 'have a responsibility to ensure that the physical, psychological and social well-being of all workers in all workplaces is promoted and safeguarded.' Malta's Occupational Health and Safety Act 
In Summary
Choosing the right office space is pivotal not just for productivity, creativity and profitability, but also to prevailing a company's brand image and company culture. 
If you are unfamiliar with the local dynamics, the process of finding and choosing the right office space in Malta can be confusing and unnecessarily complicated.
SOHO Office Space in Malta provides Simple solutions for Success.
SOHO Because:
SOHO delivers stress-free, flexible and affordable solutions that are tailored to provide your business with a perfect fit.
With a business portfolio featuring;
4.5k sqm of office space spread across three commercial buildings in Malta's most prestigious and sought after business districts

200+ companies

300+ individuals who work out of SOHO's offices

500+ members
SOHO is the Leading Provider of Office Space in Malta.
SOHO Offers:
An Eco-Friendly Environment:
70+ office spaces fully furnished, bright, modern, spacious, ergonomically designed and ready to move in.
That is Flexible:
No long-term fixed lease contracts

Option to upgrade or change locations at any time 
And Affordable: 
Your choice of  Memberships:
Private Office

Dedicated and Hot Desk

Business Presence
SOHO's Platform of Services include:
SOHO's Signature Commercial Amenities:
Company Address Certification Document (Certificate of Incumbency) signed by SOHO's director

Industry-leading Digital Technology 
*SOHO's encryption technology software provides clients with layers of added security in all of their business communication
IT support

Administrative Support

Print and Scanning

On-site Private Mailboxes
SOHO's Tangible Amenities
:
Conference Executive Suites 

Boardrooms and Meeting Rooms
*Interactive and intuitive technology throughout 
Skype and Podcast rooms (soundproof)
SOHO's Social Amenities
:
Members Lounge

Events Space

BBQ area

In-House Restaurant and Bar

Cafe

Rooftop and Patio Terraces

Weekly Social Community Events

Fully Serviced Kitchen
Access To:
SOHO's Complimentary Wellness Programs:
*Complete with showers and changing rooms
SOHO's Extra Benefits:
SOHO members enjoy product and service benefits including discounts from select partners in our community
SOHO's Extra Services:
Parking

Maintenance

Housekeeping
Peace of Mind:
24/7 Key-card entry

CCTV round the clock video surveillance

Mail and Package Handling
And much more…
Connect with SOHO on:
Come and Meet Your SOHO Team Today!
For more information and to visit one of SOHO's Business Centres at: Savoy Gardens, The Strand or St. Julian's contact us on +356 99 334 333 or email: info@sohomalta.com and book your free tour today.
Make Your Company's First Impression With Your Clients a Lasting One With a SOHO Office Space in Malta