What is the difference between renting and/or leasing an office? Duration. 
Typically;
A

Rent Agreement

is suitable for anyone looking at short periods. 

A

Lease Agreement

is suitable for anyone looking at leasing a property for a long term period.
Both are binding legal documents and all parties must honor the agreements. The 'Parties' associated with any type of commercial Rent and/or Lease Agreement are referred to as; 
The Lessee

—  the interested party renting the office space.

The Lessor

— in this case, it is the office space provider.
To avoid unnecessary costs and misunderstandings, any verbal agreements between the Lessee and Lessor should be included in the rental and/or lease contract. 
What should an Office Rent and/or Lease Agreement reflect and include? 
1 —
Flexibility of Lease
Commencement and duration period of your lease. 

Depending on the business growth or possible setbacks, what options are presented to the Lessee wanting to upgrade and/or downgrade as is needed during the lease and/or rental period. 

Renewal options. What is the proper procedure expected from the Lessee who may want to renew their lease and/or rent agreements?

Preferred payment methods as agreed by both parties.


Damage Deposit;

How much? 

What is the time frame after vacation of premises the Lessee can expect to receive back their deposit? 

How are damages, if any, calculated and deducted from the deposit?

Forfeiture of the damage deposit.
2 —
Exit Policies and Conditions
In the case that the Lessee does not desire to renew their agreement, what proper procedures are in place that needs to be followed?

If Lessee wants to terminate before the lease period is up, are there any penalties that they may incur?

Upon termination of the contract, by what time of day do premises need to be vacated by?

For failure to vacate on time, what legal course of action or monetary penalties can the Lessor implement?

What type of penalties the Lessee will incur in the case of;  

late payment 

breach of contract

forced eviction
3 —
Office Services and Extra Fees
The type of business services offered with the monthly rent may differ between office membership plans. It is important to know what professional services are included and what is considered to be extra. An itemized list should be drawn up, specifying what is:
encompassed 

and in regard to the extra services, how, and at what rate will invoice be issued
4 —
Repair and Maintenance
Not all offices come in ready to move-in condition, or according to one's taste.
In the case that the office is not in move-in condition, whose responsibility does it fall on to carry out the necessary works?

In the case of the Lessee wants to put their personal touch or carry out minor alteration work, make sure that you have permission in

writing

by the Lessor.  Also note that the following conditions associated with alteration works, are included in the agreement and agreed beforehand.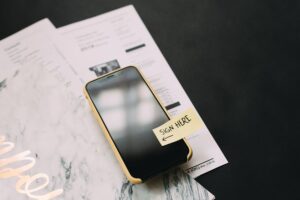 A detailed plan of changes Lessee plans to carry out.

Any restrictions of access — if any — to third party contractors.

Upon termination of the lease, who is responsible to reverse premises to its pre-existing move-in condition?



3. Wear and tear. What is the definition of the Lessor to be a

'wear,'

and what is the Lessee's cost for what is considered to be a

'tear'

?
Before taking possession or signing off on any agreements, both authorized representatives should do a walkthrough of the premises and draw up an itemized list. This should include details of the existing condition of the office space walls, furniture, and fittings. One can also opt to take pictures. The photographic evidence should be initiated by both representatives and attached to the lease agreements. 
4. Repairs and maintenance. Are tenants responsible to contribute to the costs associated with standard repairs and maintenance? If so, make sure that they are listed in the agreement.
5 —
Lessee's legal rights?
What are the Lessee's legal rights in the eventuality of:
Office building going into receivership?

Office building going under new ownership?
6 — 
Lessor's legal right 
What is the Lessor's right should the Lessee;
Fail to vacate office space

Fail to remove personal property

Conditions for eviction

Breach of contract
7 —
Arbitration
During the tenancy, should any disagreements arise with failure to settle amicably, both parties can settle their dispute by arbitration. Any judgement handed down by the Arbitration Office is considered to be final.
IMPORTANT
Any amendments to existing lease contracts should be in the form of a separate written agreement that both parties need to consent to for changes to be valid. 
All pages and any appendix sheets in the rent and/or lease contract are to be initiated by both parties.
Never sign a multi-year lease unless you have a solid exit clause.
The registered company name, and not your name, should be used in any commercial rent and/or lease agreements. 
One is always advised to seek the professional advice of a lawyer or a notary before signing off any office rent and/or lease agreements. The appointment of either one of these representatives will help safeguard your interests.
YOU ASKED, SOHO ANSWERED!
SOHO's Rental and Lease Agreements are straight-forward and transparent. The rights and responsibilities of both parties are reflected in our Rent and Lease Agreements.