The inspiration for this recipe came after we tried the delicious lunch last Monday. We're going to tell you how to make
Creamy Garlic Mushroom Chicken
As a side dish we chose boiled potato, but you can use rice, pasta, or experiment with any other side dish.
Get your kitchen ready and enjoy this yummy dish!
Ingredients you need:

1 1/2 pounds chicken thighs or breasts – boneless, skinless
2 Tablespoons olive oil
4 Tablespoons butter
8 ounces sliced mushrooms
3 garlic cloves minced or whole (whatever your preference is)
1 cup chicken broth
1/2 cup heavy cream
2 ounces cream cheese, softened
1 teaspoon garlic powder
1/2 teaspoon salt
1/4 teaspoon pepper
1 Tablespoon flour
400g Potatoes
Process of cooking is very easy
Prepare potatoes, mushrooms & chicken:
Slice them into cubes and add salt to the boiling water and cook them until ready.
Add the chicken into a skillet with olive oil and cook the chicken for 3-5 minutes on each side, or until brown on each side.
Remove chicken and set aside on a plate.
Add the sliced mushrooms, garlic, and butter.
Cook for a few minutes until tender.
Remove and set aside.
For the sauce:
Add the chicken broth, heavy cream, cream cheese, garlic powder, salt and pepper.
Cook over medium heat and whisk until smooth.
Add the flour and continue to cook for 1-2 minutes until it starts to thicken.
Last but not least:
Mix mushrooms with garlic and chicken pieces with sauce.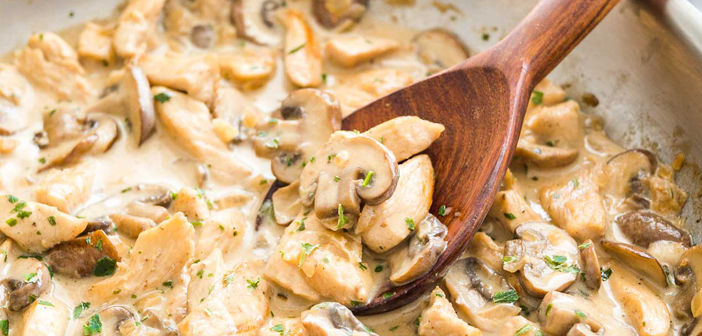 ENJOY DELICIOUS  LUNCH!