Whether you want some money on the side or looking for this to be your full-time job, knowing how to apply to be self-employed is actually immensely beneficial. This can help you in putting some extra money in your pocket to spend on things you might have abstained from buying previously due to lack of funds. And if you are really good at what you do and with a number of clients on your side,  you can go solo and work full-time self-employed, you might actually start your own business if you are inclined to do so, nothing is stopping you! 
Self-employment is also very accomplishing and if you succeed through hell or high water you will feel an immense sense of pride and satisfaction.
The process of registering for a business in Malta is very favourable in Europe not to mention that Malta is in the middle of all this growth. With the island being in a very strategic place in the middle of the Mediterranean, it is close to a lot of the countries in the EU, coupled with Maltas flourishing iGaming sector, you have one of the best places to become self-employed, because companies will always require a service, so if you do your research you will find clients!
Read our guide on how to become self-employed in Malta and make sure you are doing the right things.
What do you need to be eligible?
Applicants will have to provide a valid ID card or if you are unable to provide it,  the residence permit that is issued by the office of Identity Management will suffice. Furthermore, you will need to have your Social Security number and if your business will be importing and/or exporting any goods in and out of the country it is suggested to get an EORI number.
Do you have to register as self-employed in Malta?
Yes, you do.
To register as self-employed one simply needs to visit this government site, and everything is quick and straight forward.
Firstly, you will need to go on the proper selection with which you wish to apply for, either: 'Sole Proprietors in possession of a valid Maltese Identity Card', or 'Company Legal Representatives' or if it is none of the above there is an, 'Other applicants' choice which you can select.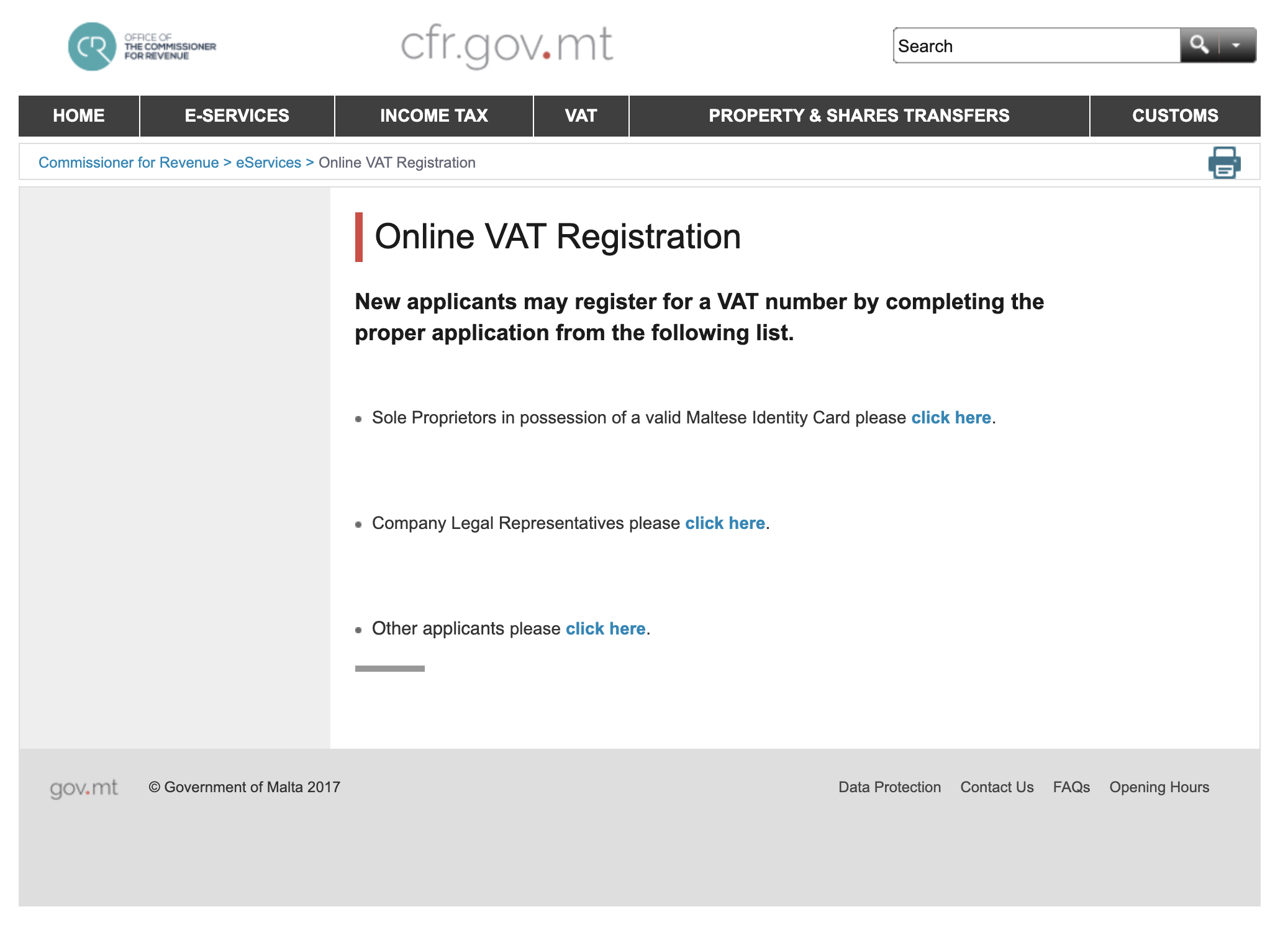 If you select the 'Sole Proprietors in possession of a valid Maltese Identity Card' option you will be asked to give your ID Card Number and ID Document Number. After that, you are required to fill out your basic information like address and phone number. 
Along with that, you will also be required to state what service will your business be providing, you will be asked also your wage, for tax purposes, if you will be working full or part-time, if this is your only form of income and other questions of the sort. Finally you will receive an email with your VAT number and later on, you will receive an official letter with your VAT number.
Make sure that after you pass through this whole process which might take you around 10-15 minutes, apply for your VAT book. This will be used to give proof of payment to your clients. It is of the utmost importance to keep this book up-to-date, if any trouble should come your way, you will have everything on paper ready to present proof of what you have done and the payment you have received
Never throw away any important/official documentation. Whether it is your VAT number, invoices or receipts, it is imperative to save these somewhere safe and keep them organised!
Do Self-Employed Pay Tax?
A person who is self-employed has to deal with their own social security, unlike someone who has an employer who deducts the income tax and social security for his/her pay. For self-employed people, the rate of the yearly income is 15%. 
When it comes to income tax if you make under €9,100 you will not be charged anything, from €9,101 to €14,500 you will be charged 15%, from €14,501 to €19,500 you will be charged 25%, from €19,501 to €60,000 you will also be charged 25% and from €60,001 and over you will be charged 35%.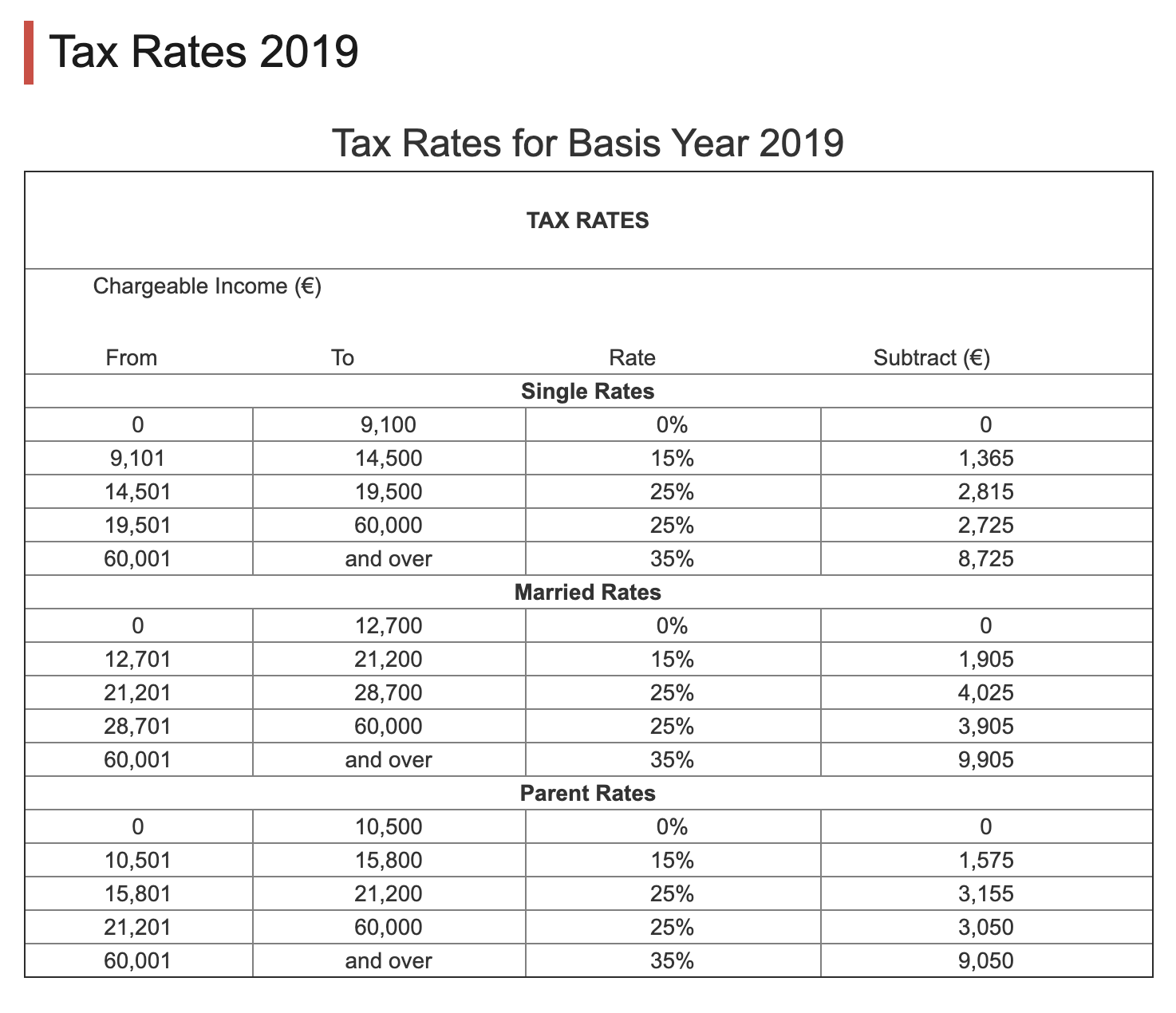 Then there are married rates and parent rates which increase decrease taxation.
Advantages of being Self-Employed
As mentioned in the aforementioned paragraph, one of the obvious ones is that you can get some extra money in your wallet for whatever you need. But other than that, starting up something on your own is greatly motivating, it is stepping in the direction you want to take and you will be completely in control of what is going to happen. You have full ownership of your business and service, you are the boss and the employer so it is up to you to find clients and make sure they are satisfied. 
Client satisfaction will create opportunity, word will spread, especially in a small country like Malta where everyone is friends. Be sure to stay motivated, you can burn out quickly if you do not take breaks or it seems like your idea is failing. Always be calm and take decisions slowly because it might launch you up or drag you down. Do not lose heart at the first sign of adversary, growth will happen once you will overcome a challenge, you will learn and create an even better product through challenges and bumps along the way!
Coworking in Malta
If you decide to move to Malta you might consider working from a coworking space.
At SOHO, we offer desk to rent by the day, the week or the month. You decide what suits you the best!
The price starts from 25€ per day and you have access to a kitchen, free coffee/tea and many more amenities.
Don't hesitate to call us for any information about working in Malta or come to visit us at any time.
Discover our coworking space in a video: