400 sponsors and exhibitors, 15,000 attendees, and three days of pristine networking opportunities brought SiGMA Groups iGaming event of the year to a close last week. In case you were unable to attend one of the biggest iGaming events in Malta, here's a quick recap of the SiGMA Summit!
An expo floor jam-packed with attendees from all over the world joined together to experience this year's SiGMA Summit. Arriving in fashion with 'SiGMACopters' and fully loaded busses, this year's delegates were able to enjoy SiGMA's largest event to date with a smooth ride to the festivities.
Three days of work and play on the expo floor brought high energy into the Summit. Showcasing Europe's most innovative solutions and contributions to the iGaming realm, attendees experienced the industry giants unique and versatile stands presenting their contributions to the sector, with a hands-on opportunity to network with some of the finest industry players. Thought provoking conferences and workshops introduced a deeper layer to the versatile world within the iGaming sector over the days of the Summit.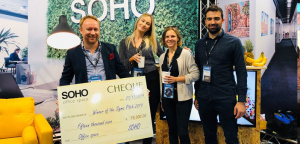 Start Up Pitch Winner
This years Start-Up Pitch award went to Bethereum, an innovative social betting platform.
"Bethereum is a social betting platform that allows its users to place customizable bets on selected events with other people, excluding middlemen from the process. Bets are placed in user-created, public, or private groups. It's easy: you create a bet, designate the buy-in, how winnings are rewarded and what events are bet on. All bets are made with the BETHER, our own Ethereum-based betting token."
Awarded with €15,000 worth of office space, SOHO couldn't be more thrilled to have Bethereum join our diverse SOHO Community.
In Closing 
After three full days of activity on the expo floor, the evenings of the Summit included some of the finest networking opportunities enjoyed over iGathering dinners, a SiGMA introduced WBC World Title fight, and a closing night party hosted by Pragmatic Play, Fashion TV Gaming, and Videoslots, ending the Summit in its supreme style. This year was SiGMA's biggest Summit yet – here's to an even bigger event next year!