It's the event that everyone's been waiting for! SOHO FRIDAYS are back in our newest location – SOHO The Strand! For the first time, members from all three locations got the opportunity to spend their Friday afternoon loosening up in a formally informal environment, enjoying SOHO The Strand's fully loaded 4th floor: an exclusive bar, modern furniture to relax on, and a HUGE terrace to appreciate the warm evening and fantastic views from the top of the city.
As the members started to arrive, they were welcomed by an OPEN BAR where they could enjoy some snacks and drinks. The star of the evening – GIN – was showing off good co-operation skills by mixing up with tonic, pleasing all the lovers of this easy peasy and, literally, lemon squeezy cocktail.
The members were encouraged to bring their friends, colleagues, and business partners together with them, so the evening was full of chances to build new connections, meet old friends, and make new ones!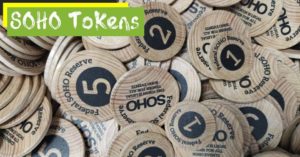 We're happy to announce that the 'Gincident' was the first time the new SOHO Currency, "SOHO Tokens", were introduced. They can be used during future events, or towards food and drinks in the Members Lounge (SOHO The Strand, level 4).
Conversion rates are based on the number listed on your token. The new currency can now be purchased at the reception in each SOHO location with either cash or card, or charge it to the monthly invoice!
Never miss another SOHO Event – Follow the SOHO Events Calendar to keep up with all of our future events!