Another adventurous year has come to a brilliant close. 2019 has brought us growth, lessons, and more awesome members into our SOHO Network. It's hard to believe the year is already over, so we've compiled SOHO's Year in Review: 2019 Edition – featuring some of our most memorable moments, highlights of the year, and how we've navigated through the crazy year that was 2019!
From two new business centre launches, attending 4 conferences, and countless SOHO Friday's – this year has been filled with opportunities to connect with our diverse community.
As SOHO expanded to 2 more locations, the SOHO team expanded too. From a few staff members, we grew into a solid team of office administrators, a community manager, marketing manager, social media and content manager, and operations manager.
Throughout 2019, our diverse team and members have sculpted the SOHO Office culture into an unshakable force. Implementing regular interactive events with our members have been one of our greatest accomplishments of the year, creating a dialogue between the members across the SOHO locations.
One of our favourite events has been 'SOHO Lunch Break,' featuring a healthy, vegan-based pasta option each week created by SOHO Community Manager, Suna. The Lunch Break has created a close-knit, family style type of lunch break between members at SOHO Savoy Gardens, with members taking it upon themselves to cook their own healthy Lunch Break option for the entire office. To many members, 'Jeff's Green Curry' was the highlight of 2019.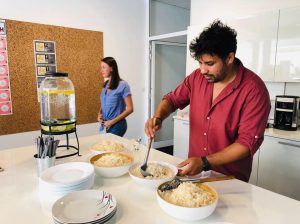 Our team has had the pleasure of watching the SOHO empire grow throughout 2019. The SOHO community has grown to a whopping 200 members throughout our business centres, creating Malta's largest Business community. The SOHO team have been busier than ever, and that's just how we like it.
Another fond memory of 2019 was brought to us by the Beer Pong Series, held at SOHO St. Julian's – members have gathered for three installments of the series, battling it out to be crowned the ultimate Beer Pong champions of the office. Through epic wins and hollowing losses, our members have had the chance to partner up with members new and old, networking with SOHO's finest.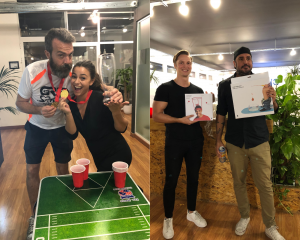 2019 was an unbelievable year, but we're ready for 2020.
SOHO has some incredible plans for the New Year; showcasing events and MeetUps tailored for our community, 2020 will be an exciting year for SOHO events. We'll bring back common favourites like SOHO Art & iGaming and CityFALON's Show Me The VALUE Meetup series, while also introducing new interactive events for our members enjoyment.
But we aren't just stopping at events – SOHO will continue to grow even further in the New Year in all aspects, but we can't give away too much just yet.
From all of us at SOHO, we want to wish you a very Happy Holidays and a prosperous New Year as we enter the new decade.
Stay tuned on our social media platforms and in our Community section on the SOHO site to stay up to date on all of the fun things we're bringing your way.