Serviced office spaces are a flexible workspace solution for companies of all sizes. These unique spaces provide comfortable work environments that can accommodate any needs your business may have. At any stage of development, companies should consider serviced office space solutions as an alternative workspace to the conventional commercial office space. Serviced office spaces optimize time, costs, and efficiency.
What is a serviced office?
A serviced office space is a workspace that hosts workspace, wide ranging facilities and amenities, all on a pay-per-use basis.
Serviced offices provide in-house facilities and administration services to assist your business, such as:
Access to private Meeting rooms & Conference spaces;
A reception team to welcome clients, answer phone calls, manage your mail, plus other administrative services on your companies behalf;
Cleaning & Maintenance teams to provide up keep of the business center.
All arranged by the operator of the business center.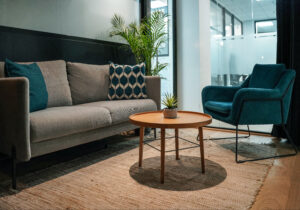 Stress Free Solutions
Choosing a serviced office for your work space offers ready to move-in solutions. There are already many factors that go into running a business – spending time and resources on small details can be very time consuming, and take away from the things that really matter: your business operations.
Serviced offices are fully equipped, furnished, and decorated with consideration of the needs many businesses have. Everything from furniture, lighting, to acoustic elements, are designed and incorporated coherently, practically, and intelligently into the serviced office space to support your business.
Take advantage of fully loaded amenities within the serviced office space on a pay per use basis. Feel confident in hosting your current and prospective clients in a 360 workspace: show your clients the workspace your team uses to get business done, take your guests to lunch, take meetings in outfitted meeting rooms, or host a company launch party, all under one roof: Your serviced office space.
Flexible & Cost Effective
Serviced office providers understand things can change very quickly in business: That's why most serviced office spaces offer rental terms that are flexible. By offering contract terms for as short as one month, or allowing the possibility to upgrade to a larger space within the initial contract term, this provides the much needed flexibility a business looking to remain agile is seeking. Wide ranging contract terms also provide wide ranging rental prices. This can be ideal for businesses looking to keep costs low, as you can select the rental period that satisfies your budget allowance, without overcommitting to the space on the longer term.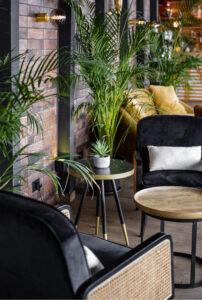 Businesses that use serviced offices only pay for the space they need within the serviced office space. Serviced office providers take into account all of the overheads one would typically encounter in a traditional commercial space, such as:
Electricity & water fees;
Cleaning & maintaining the building;
Outfitting the business center with internet and other essential technological hardware, office furniture, lighting, etc.;
Front desk personnel;
Providing coffee, tea, and other kitchen conveniences.
With the serviced office operator bearing the majority of the overhead costs, this can free up cash flow for other priorities your business has.
Who uses serviced offices?
One of the great things about serviced offices is the diversity within the business center. Serviced offices provide the perfect playground for small and large businesses alike, as well as self employed persons looking for a more social workspace. Within the serviced office you'll also find:
Start-up businesses: Serviced offices are ideal for start-ups as they are the most cost-effective solution for those who need an office space, while creating great opportunities to collaborate and network with other like-minded entrepreneurs.
Project based teams: Serviced offices provide the most ideal solution for teams that need to be based in an office space for a specific amount of time in a specific location. Flexible lease terms provide the best conditions for these teams to thrive, without long-term commitment.
Growing businesses: A business that is experiencing growth in the short term can find much needed flexibility in a serviced office. Serviced offices provide office units ranging in size for businesses experiencing growth that need quick, adaptable solutions in line with their business plan.
Digital Nomads: More and more people are gravitating towards the ways of Digital Nomadism. People are increasingly being able to work from anywhere in the world they want: serviced offices can offer a short term workspace with locations world-wide for those who like to stay on the move.
What are the benefits of a serviced office?
Besides incredible flexibility and low-cost solutions, serviced offices create a space for entrepreneurs to thrive. Other key benefits can include:
Access to key facilities & services: meeting rooms, kitchen & lunch areas, staffed reception desks, cleaning and maintenance services, and conference areas
Superb networking opportunities: by working in a serviced office, you become available to great networking opportunities by working alongside such a diverse workforce. Serviced office operators often host unique events for the community in the business center, creating new opportunities for the users to meet like minded individuals.
Access to key locations and new markets: most serviced offices have branches in big cities or various countries around the world, which provide eye-catching business addresses that may have otherwise been unaffordable to the user. This also offers the possibility to scale your business to other countries, or expand your workforce by hiring personnel based abroad.
Explore serviced office opportunities with SOHO Office Space
SOHO Office Space provides stress-free, flexible solutions that are tailored to support all of your business needs.
SOHO offers:
4.5k sqm of modern office space from 3 upscale business centers, conveniently located in the most prominent business districts in Malta.
A choice of over 70 Private Office Suites, and designated coworking spaces that are fully furnished and equipped, ready to move in.
Multiple Conference and Meeting Room facilities.
Exclusive Office Memberships.
Flexible Lease Contracts.
Options to easily Upgrade.
SOHO's Signature Amenities:
Gym & Sauna
Members Lounge
In-house restaurant and bar
Rooftop and patio terraces
State of the art event spaces
Fully serviced kitchens
BBQ area
SOHO's Community:
Weekly social and networking events
Weekly gym classes with trainers: yoga, core workouts, and boxing classes
Discounts and special deals from partners in our business community
Exclusive, private dining opportunities
And much more…
Make Your Company's First Impression With Your Client's A Lasting One With An Office Space In Malta with SOHO