The information, communication, and digital technology (ICT) industries driving the gig economy have revolutionized the traditional concept of office space. The advances in these sectors have created the demand for a flexible and affordable modern office space solution that meets the needs of today's dynamic business environment.
Hot Desking — also referred to as 'hoteling' — is one example of a modern office space solution that is growing in popularity around the world.
Designated hot desks can be found in private offices and co-working spaces offered by flexible office space solution providers.
What is Hot Desking?
Contrary to the traditional use of dedicated desk allocation, hot desking enables individuals and groups to take advantage of workstations that are available at different time periods.
This idea may have evolved from a practice used on-board ships. Sailors finishing their shifts often climbed into the still-warm bunks of their replacements. It was informally known as 'hot racking'.
The concept of hot desking may be new to some, however, this practice has been in use since the 1990's and has been on an upward trajectory for the last two decades.
What are the benefits of Hot Desking?
Many companies and individuals adopting this approach should expect to enjoy the following;
Productivity

Flexibility

Networking

Cost Savings

Community

1.
Productivity
While working from home may be ideal for some, the long term effects from the lack of divide between personal and work lifestyles could hinder business focus and efficiency.
Social interaction with peers and team members helps strengthen and balance personal relationships and teamwork, enhancing overall productivity.
Employee Autonomy — hot desking enables professionals to work in different office spaces that are conducive to their business needs.
Engaged individuals are far more productive and innovative.
2.
Flexibility
Regardless of company size, hot desking allows for the flexibility of;
Creativity — working in an environment other than a home-based office space
Options — a choice of one or more desks at a fraction of the costs when compared to maintaining traditional offices
Collaboration — the flexibility to work in proximity with a core group or team that is collaborating on the same business project
Growth — the flexibility to pursue other markets and/or expand a company's business portfolio free of the cost constraints of purchasing commercial space — or the restrictions of long-term lease agreements
Personnel — the flexibility to source from a broader labour pool of skilled professionals who are readily available to operate out of a preferred hub,

without the need to lease additional office space in those locations

Productivity — a flexible working schedule based on achievement rather than a fixed time agenda
3.
Networking
The daily interaction with like-minded individuals from different backgrounds expands and enhances;
Friendships

Creativity

Forges new business relationships

New and existing skill sets
4.
Cost Savings
The financial advantages of leasing a hot desk include;
Reduction / elimination of unproductive office space including associated operating, upkeep, and maintenance costs

Reduction in rents

Reduction / elimination of the need for employee relocation and commute costs
5.
Community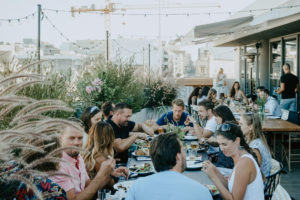 Providers of this modern office space solution host and promote many social activities, seminars, and networking events for members throughout the calendar month year-round. The sense of community experienced and enjoyed by participants promotes a stress-free, cooperative environment that inspires creativity and productivity.
Is Hot Desking right for my business?
If you are a;
An self-employed looking to combine work from home and an office environment

Start-up looking for adaptable growth solutions

Small or medium-sized company evaluating business potential in Malta and adjacent markets

Larger organizations considering development or expansion into European Union, North Africa, or Middle Eastern markets

Professional requiring temporary business services in Malta
SOHO Office Space is the largest provider of flexible office space solutions in Malta. SOHO offers over 4.5k sqm. of office space in three modern buildings, conveniently located in the most prominent business districts in the country.
How to rent a Hot Desk at SOHO Office Space?
Choose from our 3 exclusive locations';
Choose from our menu of flexible lease contracts that best suits your needs

Choose a space from the designated hot desk area.
Contact us at +356 9933 4333 to speak with a SOHO representative. Our team will be pleased to assist you with any questions, guide you through the booking process, and confirm your reservations.
SOHO Hot Desk Provides Members:
Access to all 3 SOHO Business Locations
Access to a Flexible Desk Space
Access to our Exclusive SOHO Community, including lunches, yoga classes, networking, social events & gatherings.
Access to SOHO Amenities, such as fully equipped kitchen with complimentary water, freshly brewed coffee and tea, snacks, gym, pool, showers, games room, BBQ area, outdoor terraces, lounge areas, in-house restaurant and cafe services.
Access to Free State-of-the-art Digital Technology complete with IT Support
Access to High End Boardrooms, Soundproof Skype Rooms, Conference and Meeting Rooms
Access to Reception Services and some Business Services
And Much More …
Want more in-depth information about our services and products on offer?
Fill in our online form or email us at info@sohomalta.com to speak with one of our team members. The SOHO Team will gladly assist you with any inquiries you may have.
Re-imagine your office experience with a Hot Desk solution in the Malta islands with SOHO Office Space.