In business cash flow is king. For a start-up the elimination and /or reduction of;
Capital expenditure

Overhead operating costs

Travel costs
has never been easier with a Virtual Office.
 What are the advantages start-ups can benefit from?
 For any business in it's initial phase, having a Virtual Office provides unique advantages that are too important to ignore. These include;

Affordability
Flexibility
Control
Connectivity
Administrative Support
Prestige
1 — Affordability
Commercial office space and it's associated expenses that include;
Rent
Insurance
Purchasing of office furniture, fixtures and fittings
Maintenance
Utilities
Upkeep
are at a premium. Don't break the bank! Minimise your costs. For start-ups, leasing a Virtual Office is a smart cost-effective decision.

2 — Flexibility
~ Virtual Office Providers offer;
No long term lease contracts.
The flexibility to upgrade to a wider range of commercial services and office space options, by your growing business needs.
Coworking office space. For start-ups who may require to temporarily integrate their virtual office with a physical space, choose wisely. Not all Virtual Office Providers offer coworking spaces.
Use of high-end and modern conference facilities. Conduct important business meetings in style with your clientele, business associates and employees as needed.
~ A flexible work schedule. Start-ups and their employees who are not bound by fixed office parameters, exhibit less stress, are more engaged and produce higher levels of productivity.
Maximize your profits by;
Making allowances for a flexible work schedule based on achievement rather than a fixed time agenda.
Improving your work-life balance. The potential to strike a perfect balance lies in the ability to successfully create, set, maintain, and manage a work schedule. A routine that doesn't interfere with the time you are at your most productive or take away from your family time.
Higher productivity equals profitability.#

3 — Control
For a start-up, one of the main advantages of leasing a virtual office is accessibility;
To the same corporate registered address as your provider. This is key as it gives you the freedom to operate your business from anywhere in the world.
To a wider global labour pool of highly skilled professionals. Save on training, relocating or commuting costs.
4 — Connectivity
Most Virtual Office providers offer state-of-the-art digital communication and support platforms. This is an important facet especially if your business;
Relies heavily on digital technology to conduct its operations;
And/or wants to successfully communicate without interruption of internet service with your employees, clientele or business associates.

5 — Administrative Support
One of the perks of leasing a Virtual Office is the assigned and your choice of administrative support and commercial services available to you through your provider. Unless you choose otherwise, the assistance of a receptionist is a benefit for you.  This trained professional can successfully manage your daily operations while you focus on the aspects of running your business.
6 — Prestige
Virtual Office Providers tend to have their offices in the most desirable business districts in the region and/or country they operate out of. For a start-up, this is pivotal, as it will complement your economic enterprise with a physical presence, one that will add value, credibility, and reliability to your business image.
Why is a Virtual Office the best solution for a start-up?
Virtual Offices are also known as 'Business Identities' due to the unique advantages that they provide to a variety of businesses.
So, If you are a start-up looking into;
establishing a permanent commercial presence in Malta,
investigating new and emerging markets,
expanding your business interests within the EU, and it's neighbouring foreign markets,
Opening a SOHO Virtual Office in Malta should be your top choice!

Why Malta?
Malta may be the smallest member state in the European Union, yet this nation offers;
1 — Stability
Credit rating firm Fitch has just scored Malta at an A+.
Fitch's analysis of Malta (and as reported in The Times of Malta) is based on the assumptions that;
Covid-19 vaccines will help the global economy to recover in 2021 and 2022;
Return of foreign tourists, and of several large-scale investment projects that have been delayed from 2020;
EU member states will reach a compromise on coronavirus aid money and a new multi annual financial framework;
And the economy is driven by strengthening consumption.
Malta's economy is projected to rebound strongly in 2021 growing by 5.4% and 3.9% in 2022 respectively.
'While other EU states register, record unemployment and crashing economies, Malta was on track to one of it's best employment records in history'  The Hon. Dr Robert Abela, Prime Minister of Malta.
2 — Malta's Advanced Digital Technology Infrastructure
According to the 2017 European Commission report,
Malta performs above the EU average in broadband connectivity; internet use by citizens; use of digital technology by businesses; and provision of digital services.
 Malta is a European Leader in the high and ultra-speed broadband Next Generation Access ( NGA) Plan of Services.

Why SOHO?
Feel 'empowered' knowing you can create a great business presence in Malta from any part of the globe with the ability to expand into new markets all with huge cost savings.
1 — SOHO Office Space in Malta offers 3 Elite Virtual Office Membership packages. These are;
All 3 of SOHO's Virtual Office membership packages are tailor-made to suit all of your business needs and budget.
2 — Company Address Certification Document
The choice to register your company under one of SOHO's 3 corporate addresses, located in the most prominent business districts in Malta, remains consistent throughout each membership plan.
For start-ups looking into expanding their presence in Malta, a Company Address Certification Document or Certificate of Incumbency is required by The Malta Financial Services Authority( MFSA).
This document confirms to Malta's governing body your legality and asserted status of a Director or Management within a company that is in the process of either;
applying to open a bank account or,
needs a business licence to operate,
in Malta. Business licences issued in Malta are often valid for the entire European Union.
The Company Address Certification you may require is signed by one of SOHO's Directors.
3 — High-End Digital Technology
SOHO provides cutting edge digital technology to all of our clients. SOHO's encryption technology software provides our members with layers of added security in all of their business communications.
With a SOHO Virtual Office membership plan, our clients also have access to interactive and intuitive technology in all of SOHO's meeting rooms and conference facilities.
Integrate this unique platform of SOHO's services at a fraction of the cost.
SOHO is the Leading Provider of Virtual Office and Coworking Space in Malta.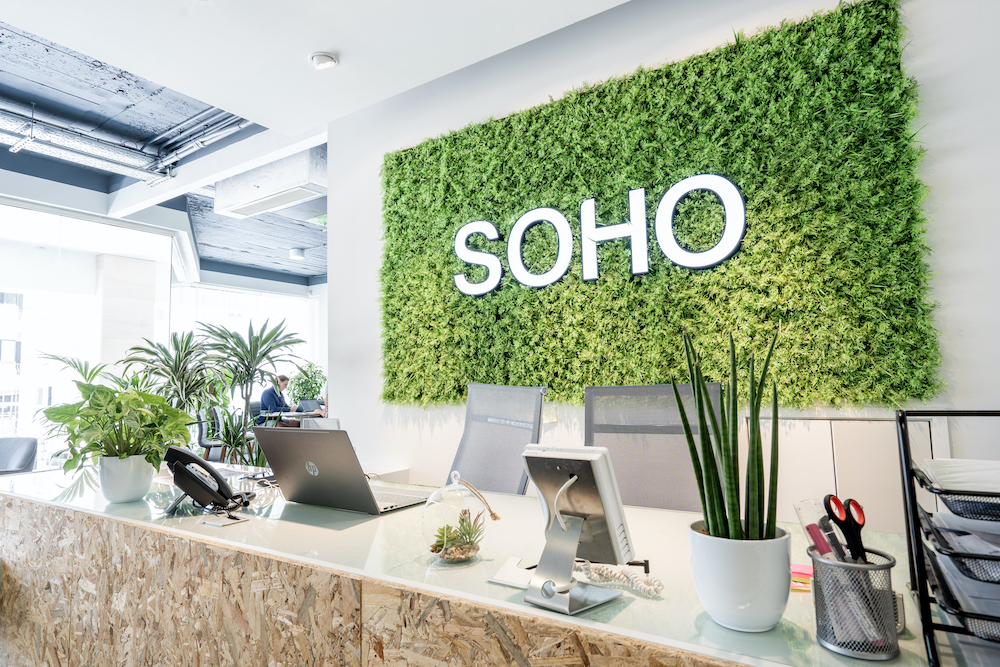 How can you open a SOHO Virtual Office in Malta?
Creating a Virtual Office experience has never been easier with SOHO Malta.
Prospective Clients can;
Send us an email at

[email protected]

where applications can be completed conveniently online.
Phone us at: +356 9933 4333
Or, simply drop in at either one of our 3 office buildings at Sliema, St.Julians, or Gzira. Meet with your virtual office team, and finalize your membership on the spot.
The following information is required;
Company Name
Company Directors Details
VAT Number
Company Address
An approval letter featuring your company's newly registered address, at one of SOHO's business centres, will be sent to you.
That's it! A one-time annual payment, reception services at the click of a button, all mail and package handling is done on your behalf and much more…
*In the case where you may not yet have a VAT Number and/or Company Address, SOHO will add it onto the application form once your business is fully registered.
When you are ready to unlock the full potential of your business, SOHO Malta is the Key!