Collaboration, affordability, and flexibility are the new bywords for shared office space in today's fluid business culture. With the demand for tailored working solutions increasing exponentially, this option has become a smart and effective choice.  Your path to a successful transition starts here.  
What Is A Shared Office?
A shared office space is a dedicated area within an office building where individuals, or team members employed by the same company, work alongside others in an open-plan workspace.  Shared office spaces are usually fully furnished, equipped, and serviced solutions.
Office providers are now incorporating coworking spaces into their menu of product offerings.  This type of modern work environment promotes and enhances a collaborative community made up of different businesses operating side by side.  It also enables private office tenants to readily expand workspace availability for additional employees on an 'as needed' basis.  Should demand increase, tenants have the option to designate part of the shared workspace to meet longer-term commitments. 
The choice of membership plans available for individuals and businesses who want to rent shared office space includes;
Private Office Suites

Dedicated Desk Space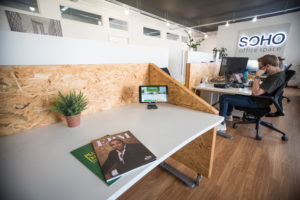 These options share a number of advantages. Unlimited desk spaces are available to rent both in Private Office suites and designated coworking spaces.  
As the name implies, a Dedicated Desk Space is the tenant's exclusive workstation to use throughout their rental period. 
A Hot Desk is a workstation that is used by individuals on an ad-hoc basis.
These choices are ideal for any business — regardless of size.
 We've compiled our top 10 reasons to work in a shared office space.
Reason 1
— Affordability
Demand has rapidly exceeded supply. Traditional office space is at a premium. Shared office spaces enable;
Elimination of capital investment and the continued operating costs for property and leases.

Reduction in the costs of

buying and/or leasing of furniture and fixtures

Upkeep and maintenance

Reduction in rent
Affordability makes financial sense.
Check Hot Desking Product from SOHO Offices
Reason 2
— Flexibility
Short term versus long term lease contracts

Option to upgrade as your business grows 

Fully furnished and equipped, turnkey condition

Flexible work schedules to suit your business needs 
Reason 3 —
Productivity
Creativity, engagement, teamwork, and communication with your peers helps to strengthen business and personal relationships, enhancing productivity.
According to The Harvard Business Review, 'individuals who work in a shared office exhibit  74% overall job productivity and higher levels of satisfaction'.
Reason 4
— Networking
Daily networking opportunities exist in a shared working environment, promoting; 
Inspiration

Knowledge

Collaboration

Growth

Reason 5
— Location
Location Is key. Shared office providers tend to have their offices;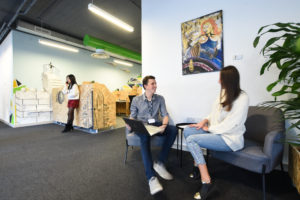 A) In the most sought after business districts within the regions, they are located in.  A registered address in a prominent location is a direct reflection of your company's commitment to success. 
B) In close proximity to an existing infrastructure of local amenities such as;
Banks and post offices

Cafes and restaurants

Major public transportation routes
Reason 6
— Modern Environment
Contemporary, open-plan layouts are the preferred choice of interior design for shared office spaces. Unobstructed by dividing walls or partitions, the productive upbeat atmosphere between members is a great environment for collaboration and business growth. Creativity can be contagious!
Reason 7
— Digital Technology
Where infrastructure permits, most shared office providers invest in advanced technologies (ICT)  that support their menu of services.  This is a key advantage for individuals and businesses that may wish to integrate with digital platforms at a fraction of the cost.
Reason 8
— Business Services
Functionality and support. The professional business services typically found in traditional offices are also available in a shared office space. These may include; 
Use of Business Lounges and Conference Rooms

Reception services

Wi-Fi

Mail and Package Handling

Printing and Copy Service
Reason 9
— Community
Shared office space providers often organize and host a variety of social activities throughout the calendar year for their members. These optional events contribute to the sense of community and often create cooperative relationships and broader opportunities for collaboration.
Reason 10
— Security
Most shared office providers offer;

Secure building protocols

CCTV and Alarm Systems

Exclusive key access for tenants
More Information about Hot Desking
Did you know?
According to www.statista.com;
At the beginning of 2010, there was a total of 21k shared office users worldwide.

In 2018 that number had risen to 1.6+ million

By 2022 that number is expected to reach 5.1 million worldwide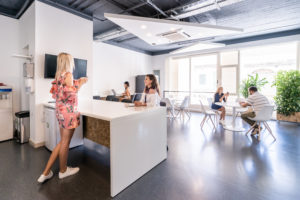 The dynamic cultural shift towards shared office space today is being driven in part by the high costs of traditional office choices. Sharing office space makes smart business sense. It addresses the growing need for an alternative solution and is now recognized as a proven formula for success.  
Is shared office space a better choice for my business?
YES;
An office outside of your local internet cafe or living room

Scale / Grow your business at your own pace

Exploring or expanding into new territories 

Short term office space for a collaborative work project

A temporary workspace while travelling

A vibrant business and social community
SOHO Flexible Office Space Solutions

At SOHO Office Space, we offer stress-free solutions that support all of your shared office space requirements from start to finish. Our business portfolio features over; 
200 Companies 

300+ Members 

4.5k sqm. of flexible office space solutions
 Three exclusive serviced office space membership plans tailored to suit all of your business needs and budget;
Private Office Suites

Dedicated Desk Space

Hot Desk Space
Shared between 3 prime locations in Malta's most sought after business districts.
SOHO Office Spaces are;
Modern, Bright, Spacious, & Ergonomically Designed

Ready to move-in, supporting Plug 'N' Play concept 
SOHO Exclusive Services 
Business Services
Address Certification for MFSA

Serviced Reception

High-End Digital Technology

IT Support

Printing & Scanning

On-Site Mailboxes

Mail & Package Handling

Housekeeping
Flexibility
Lease contracts that work for you
Option to seamlessly upgrade as your company grows
Access to
SOHO Community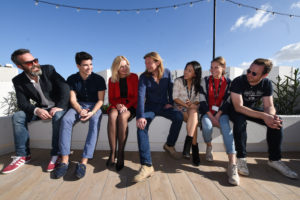 Fully serviced kitchen with complimentary water, fresh coffee & tea, snacks

Lounge area with private cafe

In-house restaurant services

BBQ area and terraced patio

Fitness centre

Pool & Sauna (coming soon)

Weekly social events
Peace of Mind
CCTV — Round the clock video surveillance & Alarm Systems

Ease of Access 

24/7 Private Access

Parking
And Much More…
Want more in-depth information about our membership plans, pricing, availability, and services?
Simply;
Fill in our online form

Send us an email at

[email protected]

Phone us on +

356 9933 4333 to book

a tour

Drop in person at one of our 3 locations

Find us on Facebook
Our SOHO Office team will be pleased to address any inquiries you may have.
Sit next to Innovators and Doers daily at SOHO Office Space – the Opportunities are Limitless.