Serviced Office Space Provider
Malta's largest coworking community
with endless networking opportunities
SOHO provides flexible, stress-free workspace solutions designed for today's doers and thinkers. Our innovative work environment attracts open-minded individuals and ambitious entrepreneurs.
Whether you are looking for a private office or a shared office space, we are here to adapt and grow along with you on your business journey. 
Serviced office experience at SOHO promotes efficiency, creativity and employees' well-being. 
It encourages productivity and helps your business rise above competitors.
Over 300 members are thriving with us… 
and we're just getting started.
Office Space Solutions Designed for Your Business Needs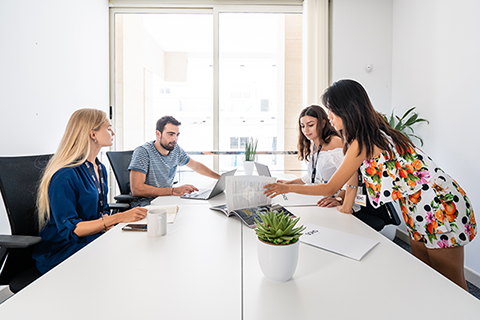 Ready to move-in offices
Flexible rental periods
Exclusive amenities & members benefits
Best for small and medium-sized operations (from 1 up to 60 persons)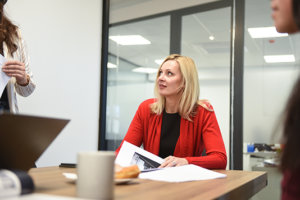 Fixed desk in coworking area
24/7 access
Reception services & office essentials
Best for freelancers, remote workers, entrepreneurs, start-ups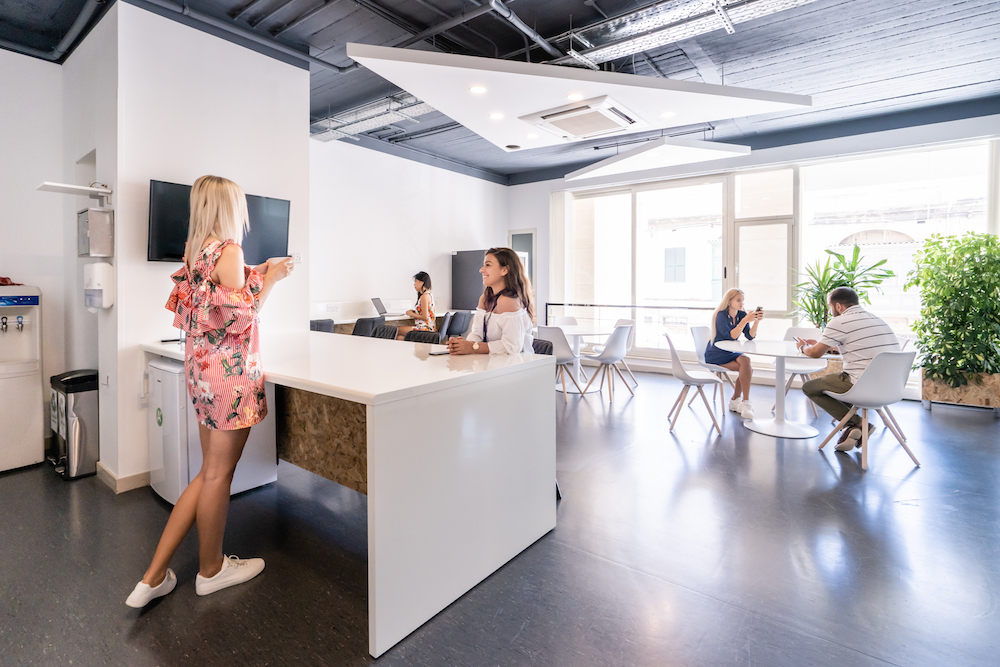 Starting from €215/month*
Flexible seat in hot desking area
Membership benefits
Exclusive amenities & members benefits
Best for those who want to combine work from home with an onsite office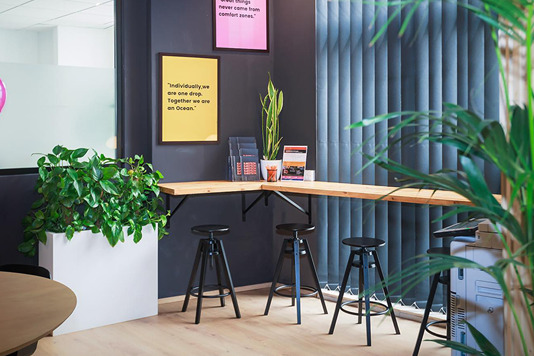 Certificate of Incumbency
Prestigious business address
Mail handling & phone answering
Best for those who needs company address but doesn't require physical office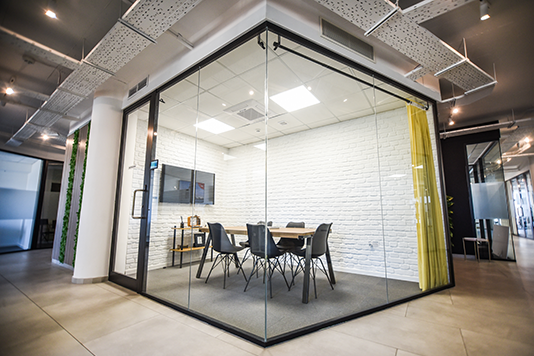 Meeting & skype rooms, boardrooms
Necessary equipment
Snacks & drinks on request
Best for business meetings, presentations, interviews, conference calls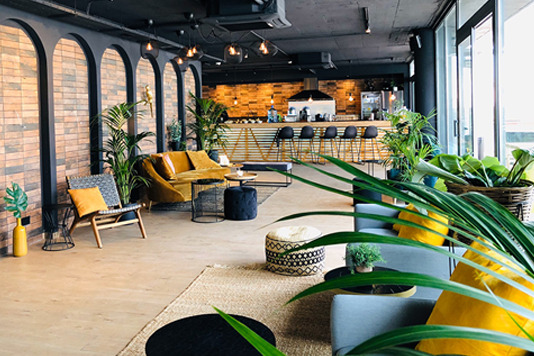 Professional event venue
Assistance & equipment on request
Catering and drinks available
Best for seminars, workshops, client pitches, presentations, trainings, or company events
SOHO Office Space is Malta's largest serviced office and coworking network, housing more than 4500 sqm of office space to rent. SOHO provides a platform for digital, tech, and creative professionals to work, connect, and grow. Offering stress-free solutions instead of limited, long term leases, our multi-location offices allow our members the ability to move fluidly between our business centres as they expand their ventures.
Community is one of the most important things to us. At SOHO, we strive to create a coworking environment that is comfortable and enjoyable for our members. By creating activities and events within and outside of the office, we aim to promote a network, relieve the stress of the workday, and connect to the SOHO community.
Some of the benefits that gives you SOHO membership are:
your very own prestigious business address,
friendly staff to help assist you on your SOHO needs,
exclusive amenities (gym, sauna, yoga classes, catering & cleaning services)
unbeatable locations in highly sought-after areas of Malta,
regular community events and networking opportunities.
Finding the most ideal area to rent an office space in Malta is a BIG decision! With many factors to consider, SOHO Office Space can check off both your 'Wants' and 'Needs' when it comes to renting an office space in Malta.
All three SOHO business centres are located in Malta's most sought after business areas.
SOHO St. Julian's is our most central office, located in the booming business and lifestyle area of the island. It is also just seconds away from the bypass, connecting SOHO to the Airport, or other parts of the island seamlessly. SOHO St. Julian's greatest amenity is the close-knit community that has been formed over the years as SOHO has grown in the business centre. If you're looking for the ideal social – work life balance, SOHO St. Julian's could be the place for you. Next to the office space you can find several flat complexes, corporate offices, restaurants and bars, the sandy beach, and most conveniently: the main bus stops leading to frequently travelled areas in Malta. This includes: Valletta, Sliema, Gzira, Pembroke, Bugibba, or the Ċirkewwa ferry terminal, where you can island-hop to Gozo or Comino. This allows flexibility to live wherever you would like in Malta, while also giving greater flexibility to your employees who may travel by public transport to work.
SOHO Savoy Gardens is the most ideal location for those looking for a quieter pace in this up-and-coming business district. Our first business centre in Gzira is located on Rue D'Argens street, known as the connecting 'back road' to St. Julian's, Sliema, Msida, or Ta'Xbiex. This road assists with quick travel between these central business districts, while feeding to the bypass for travels to the Airport, North, or South areas of the island.
SOHO Savoy Gardens is conveniently located close to several small outlets, such as: convenience shops, cafés, takeaway windows, and general shops. Another main bus stop can be found just steps away from the business centre, leading you to Valletta, Sliema, San Gwann, Naxxar, and other popular residential areas in Malta. Assert your growing business in Malta by joining a rapidly developing business community with office space at SOHO Savoy Gardens.
Our newest multi-location hop, SOHO The Strand, is bursting at the seams with the most prestigious amenities, created exclusively for the SOHO community! This business centre is located at the border of Gzira and Ta'Xbiex on the Strand; a well known area with iGaming industry giants. While walking around this area, you will find many international professionals, insurance companies, embassies, and of course the large Ta'Xbiex Marina. SOHO The Strand members can admire the spectacular marina view from the Members Lounge on Level 4. SOHO The Strand is a great business centre for larger-sized companies, looking for dynamic office space in Malta where their employees can enjoy a healthy work-life balance. Sweat your stress away while working out in the gym, or relaxing in SOHO sauna on Level 1.
What are the sizes of SOHO offices?
SOHO offers office space solutions for small and medium companies of various sizes. The size of private offices range from seating 1 to up to 35 persons.
SOHO serviced offices come furnished with desk and chair sets with fresh white walls. We promote our community to customise their office space to represent their company brand, vision, team, or whatever they want! Each office is designed to create a flexible environment and showcase the personalities behind the space. Some of our members have optimised their workspace to welcome their clients into a comfortable lounge. Others created a 'start-up'-like environment, packing in as many team members as possible, and capitalizing on the creative flow of the workspace. 
When can I access SOHO business centres?
When you rent an office space or a coworking space, you are given key cards that give you 24/7 access to our office buildings. If you choose a hot desk or a virtual office membership, you have access during our operating reception hours (from 8:30 am to 5:30 pm from Monday to Friday)
How long are the rental agreements at SOHO?
Depending on which membership you would like to take, we have flexible contract durations to accommodate your business needs. For dedicated desk or office space to rent; Contracts are available from three months, six months, and one year. If you choose a hot desk product you can choose to pay for a day. There is always an option to create a longer contract than one year, and room to change between desks, offices, and locations as your business grows.
Our company is growing but our contract hasn't ended, can we move to a bigger office?
YES! You can upgrade your plan and move between our three locations and various office sizes at any time during the contract. We are ready to adapt your professional needs and make your business journey as successful and stress free as possible.
Frequently Asked Questions
Book a Tour to See SOHO Offices For Yourself