In today's world, it is much more common for a business to be working remotely, versus in an office 5 days a week. The drastic change in remote working over the last few years has been caused by the COVID-19 pandemic, which forced companies around the globe to close their doors for months on end.
As companies started pushing remote working, virtual offices became increasingly more popular. There are advantages to having a virtual office as well as a few disadvantages. Our article covers these topics and more to help you decide if opting in for a virtual office membership is the way to go!
What is a Virtual Office?
A virtual office provides business owners in Malta with a physical presence for their company. The biggest advantage is the address, which allows business owners to conduct business in Malta without necessarily physically being here.
This is a big reason virtual offices have become so popular in a time when travel was nearly impossible for over a year.
Advantages of a Virtual Office
As we mentioned above, there are many advantages to having a virtual office. Here are just a few:
Lower Costs
When you have a virtual office and work remotely, you're saving money.

How? Since you wouldn't need to commute every day to an office, you're lowering your costs on gas and/or the bus. You're also saving costs on food and coffee.
Virtual offices are much less expensive than a retail office, so you'll end up saving money on traditional rent expenses. This is especially good for start up companies that might be on a tight budget, digital nomads looking for a headquarters for their business while on the move, or entrepreneurs who reside in another country and only travel to Malta on occasion for business.
Convenience
A big advantage to leasing a virtual office is the convenience of it. By having an address without needing to be there physically, you have the ability to work from anywhere in the world. All you will need to worry about is having a good internet connection! Business owners who choose to opt for a virtual office secure all of the benefits of traditional office space, without incurring the costs or headaches of managing a physical space. Your virtual office provider will take care of all the overheads while you focus on your business.
The Ability to Scale Up or Down
Sometimes, a new business owner can't predict the speed at which their company will grow. Another advantage to having a virtual office – no matter how big or small the team might be, virtual offices are extremely flexible. Should the business not work out as planned, business owners will only have incurred the loss of the cost of the virtual office lease, versus massive costs that would have been incurred when renting a physical workspace. Virtual Office providers usually also offer traditional workspaces, so businesses who are scaling up can opt for a workspace solution from their virtual office provider while maintaining their registered address.
Saves Time
Since a virtual office gives you the flexibility to work remotely, you will save time on what normally would be a long commute. You can decide when you start working in the day and don't need to worry about spending a whole lot of time on your appearance (you're home, you can work in your pajamas)!
Productivity and Efficiency
Sure, everyone faces distractions at home, but office distractions can be much worse. You have colleagues at the coffee machine, others wanting to chat at your desk, and potentially distracting noise.
Virtual offices do not offer a physical workspace with the membership, therefore working from home allows you to create your own focus space and cancel out usual distractions found in a traditional office space.
New Address Anywhere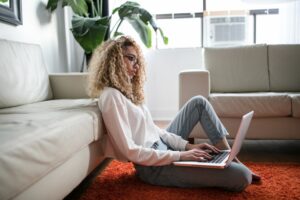 Probably the biggest and best advantage of a virtual office is that you can obtain an address anywhere in the world that works with the virtual office scheme. Since you don't need to be there physically, you eliminate the hassle of relocating, while gaining access to operate your business in local markets.
Business owners interested in expanding their business ventures internationally should first opt for a virtual office membership, where they can begin conducting business and evaluating the markets, before physically relocating their enterprise to the chosen location.
Disadvantages of a Virtual Office
Having a virtual office is a huge advantage in today's world, but there are a couple of disadvantages that come with leasing one as well.
Missing Out on Social Interaction in an Office Environment
When you're going to an office every day, you develop bonds with your colleagues. Unfortunately, virtual offices only provide users with a virtual space, therefore working remotely is required. A disadvantage to leasing a virtual office means you miss out on getting to see your colleagues face to face.
Hard to Stay Motivated
Some people might find it hard to stay motivated when they're working remotely, by themselves. This can lead to procrastinating and ultimately, poor performance. Going into an office means you can surround yourself with people who share the same career goals and motivate you to work.
Lacking Access to Equipment and Other Resources
One of the nice things about working in an office is that you have access to all of your equipment. You're also able to easily get in touch with another colleague if need be. When you work from a virtual office, most likely the only equipment you have is your laptop.
Some people like to work and travel remotely, which makes it difficult to carry any other equipment with you that might make your job easier.



Lack of Team Organization
Some teams work great from home, while others, not so much. Working in an office means everyone is close by and within earshot of each other. Virtual office users could be working from different locations across the world, which creates issues with time zones and getting fast responses.
How to Pick the Right Virtual Office?
If you aren't sure how to go about finding a virtual office that is exactly what you need, we have listed a few of the most important factors that should be considered when making your decision.
Consider your Industry and Needs
If you're a start-up business with a few employees in a booming industry, like iGaming, you might be looking for something small. However, it's important to think about the long run and if the office space will be able to cater to more of your employees if you expect to grow.
You'll also want to look at what the office space has to offer and if it suits you and your team's needs. Maybe you have certain must-haves, like a lunch space for employees, or you just want your own desk. Either way, you'll want to consider the industry and the future of your company when checking out virtual office providers.
Think About the Location
The location of your virtual office is a big one. Since it's a virtual office, the location is one of the first things potential employees and business partners will see. If you choose a low-key area with not much opportunity or business around, that could be a turn-off to some. Whereas a booming location, like Malta for iGaming, is instantly recognizable by many industry heavy weights.
Think About the Price
Pricing of office spaces is very important to compare, especially for start-up businesses looking to save money. You might not want to pay hundreds a month if it's early days in the business, or if you may be located abroad, when you could pay half for a more practical virtual space.
Check How Reliable is the Service
It's crucial to have a virtual office with a provider you can rely on, because problems can and will come up eventually. If you're looking into a virtual office space, see if you can find reviews on the service provider. You can also try to find larger companies that you know already have a virtual office with the provider and ask their opinion. Is it easy to get a hold of someone? Does the space have a history of issues with clients?
Finding a virtual office from a strong provider will give your business a strong presence in the long run.
SOHO Office Space for your Virtual Office Needs
SOHO Office Space offers business owners the perfect alternative to a Virtual Office in Malta. Opt for a business presence membership, and entrepreneurs secure services typically found in a traditional virtual office membership, such as registered address services, mail & package handling, administrative support, and more. The most beneficial twist to the Business Presence membership is the option to utilize physical workspace at any of SOHO's business lounges in Malta.
Secure a physical presence for your business in Malta, and unlock access to the workspace when coming to Malta for business.
As you can see, there are a lot of advantages and very few disadvantages to having a virtual office. In today's world, virtual offices seem to be taking over, and more and more companies are not only adopting a work-from-home mentality but even 4-day work weeks. Whether you're a startup company or have been in business for a decade, a virtual office provides many benefits and should be considered by businesses at any stage of their development.