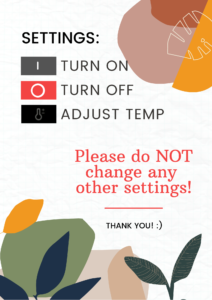 One of our most anticipated amenities is finally here and ready for our members use. The sauna services at SOHO The Strand are the perfect way to relax after a long day in the office, or a great way to sweat off any of your stresses.
But what good is a sauna if you don't know how to use it?
Make sure to:
Turn ON sauna
Turn OFF sauna
Adjust temperature.
Please do not use or change any other settings!
Note:
Temperature is automatically set on 85 *C.
It takes approx. 60 min to warm up the sauna.
It is allowed to use sauna Oils & Scents.
Sauna is ON from 6 AM till 12 AM.

After 12 AM it is always switched off for the night until 6 AM.
Feel like home in SOHO Offices sauna conveniences.