Smart Working Office Space Solutions Tailored Just For You
St. Julian's – April 26, 2021 – SOHO Office Space in Malta officially opened their newest business centre in one of the island's most dynamic commercial districts.
Located in St. Julian's, it includes SOHO's signature contemporary design, with unique Asian accents throughout.
Situated at the Punchbowl Centre in Elia Zammit St., SOHO's 800 sqm of Smart Working Office Space Solutions showcases;

19 Private, Serviced Offices
12 Desks in an open-space co-working area
3 Meeting and 2 Skype Rooms
Serviced Reception
Lounge
Entertainment Area
Fully equipped kitchen and In-House Bar
All featured workspace is located on the same floor and complimented by a rooftop entertainment terrace and bar.
SOHO excels at providing a productively, comfortable, and modern working environment.
SOHO's offices;
Are professionally, purposely-designed to accommodate business growth.
Offer a choice of amenities to stimulate productivity, comfort, and overall well-being.
Provide networking and collaboration opportunities through SOHO's business community and social weekly events.
Are advantageously located near the waterfront, cafes, and restaurants.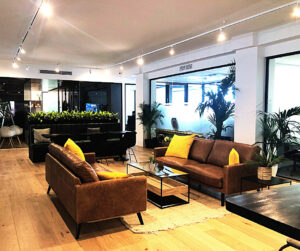 SOHO Office Space provides clients with an exclusive selection of tailored, flexible and affordable membership plans to choose from. These are:
Private Office.
Dedicated and Hot Desk.
Substance Office.
SOHO's portfolio includes:

5k+ sqm of smart working office space solutions at 3 facilities in Malta's top business districts.
200 companies.
500 members.
300+ individuals who work out of SOHO's offices.
SOHO Office Space is the largest Smart Working Office Space Provider in Malta.
Work, Connect, and Grow with SOHO.
For more information and to visit one of SOHO Office's Smart Working Office Space Solutions, contact one of their representatives and book your free tour now. Come and meet your SOHO Team today.