Updates: SOHO Morning Yoga Classes are back from June 8, 2021!
We all know that yoga is an effective way to improve overall quality of life.  Each yoga pose targets a specific muscle and gives us numerous benefits such as stress relief, increase of power and energy.
Here at SOHO, we value our SOHO Members and their well-being. That's why we've chosen to implement yoga classes with a professional instructor for all members of our amazing community.
Absolutely FREE of charge!
What can you expect?

Yoga class will include physical postures, breathing exercises, meditation, and mantra. This
complex of exercises will help you with balance, strengthen your body, calm your nervous system, and help to achieve a sense of peace-of-mind, resulting in reduced stress and anxiety.
Our professional yoga instructor will teach you all the basics of yoga, including breathing techniques, posture and balance, and introduce you to some basic yoga poses to get started.
When?
Yoga classes will take place every Tuesday and Thursday from 7:50 am till 8:50 am.
Where?
On the terrace of SOHO The Strand (level 4) or in the SOHO gym.
How Long? 
Each class will last approx 1 hour.
Who conducts lessons?
Professional yoga instructor.
Is it suitable for beginners?
Yes, the instructor will explain everything and teach you all the yoga basics.
How much?
FREE of charge.
Who can attend the class?
Classes are exclusively for SOHO members.
What do I need to have for the class?
Good mood and comfortable clothes. SOHO will provide yoga mats for comfortable training.
Limit of attendees per class?
Maximum of 10 people per class.
Have a question?
Contact Geneva at [email protected] if you have any questions or suggestions.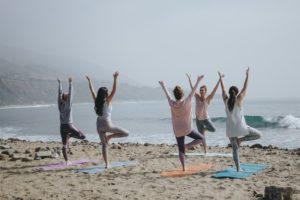 Benefits of yoga class for you:
Increase of energy & flexibility
Improve health & well-being
Enhance focus & concentration
Reduce stress level & regaining power
Speed up healing & fix your posture
Increase of body strength & weight loss
See you at SOHO The Strand (level 4).