Getting yourself awake and fresh in the morning can be a hectic and time consuming task. Often forgotten, the most important element to get you through the day is Breakfast. With a well balanced breakfast in the morning, this sets the stage for the remainder of the day.
Our SOHO team is excited to implement our newest office wellness method, SOHO Smoothies. Enjoy a healthy smoothie in the morning to boost your brain power, leaving you full and refreshed for the day ahead.
Why Smoothies?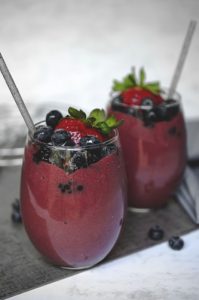 We've tested out healthy vegan and vegetarian pasta recipes during our SOHO Lunch Break, giving our members a well-balanced lunch every Wednesday. We've studied the success and benefits of a healthy lunch option, so now we're broadening our horizon on our mission for office wellness.
SOHO Smoothies is to provide a healthy alternative in the morning for our members to kick-start their working day. While gaining valuable nutrients and servings of water, the right smoothie can provide a great treat during the early hours of the workday.
Where can you get a SOHO Smoothie?
We'll come to you! Our SOHO team will be bouncing around each of the SOHO locations, offering our days delicious blend to our members around the office. Stop by the receptions or our kitchenette conveniences and pick up your smoothie without delay.
Enjoy your first SOHO Smoothie every Tuesday morning!