Are you looking to branch out from your home office? Looking to combine work from home with an office space environment? A coworking space could be the solution you're looking for.
With many things to consider before making the move, it's not always just about a cheap workspace to rent.
Recognizing what are the amenities needed in a workspace that's best suited for yourself, your employees, and overall a space for your company to excel is imperative.
Choosing a coworking space for your business needs is essential. That's why we've listed what we think are some key features in what to look for in a dedicated workspace.
Location
Choosing the workspace location should be one of the first things considered before selecting a coworking space. The location should be in good proximity to your base, as well as in an area where there is 'traffic.' You want your business to be seen, as well as situated in an area where other businesses are present, a key sign the location of the coworking space is situated in a healthy business location. Without a sense of interaction, a space quickly becomes cold and unwelcoming. This is certainly not a space you want to bring prospective clients.
It's important to consider how the workspace location will correlate with business, as the location lays the path of where potential future meetings will be conducted: question yourself, how accessible is the coworking space for clients and staff? Are there other companies around? What are the amenities only provided in this location? Is the space flexible enough to withstand the growth and vital changes your company may experience in the coming months?
These are all important aspects that will be deciding factors in how your company's received when clients come into your new office.
Community
Something not always initially considered when moving to a new workspace is the sense of community felt in the business centre.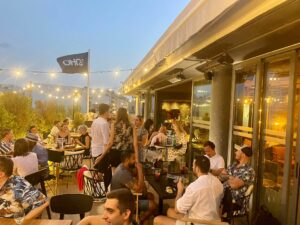 It's comforting to feel like you're part of a connected group in the workplace, outside your individual desk in the coworking space. Of course, you want a workspace that's work focussed – however, humans need interaction. After a long period of time spent inside due to the pandemic, many of us are looking to slowly re-introduce ourselves into social environments. Coworking spaces can provide social interaction and the opportunity to network during events within the business centre with a wide range of individuals and businesses you may not have interacted with otherwise.
At SOHO Office Space, we believe community is one of the most important aspects of what makes a coworking space work. We've implemented regular 'SOHO Fridays' and other events to keep the members of our community connected.
We trust the importance of a community feel that isn't just operated through the working day, by holding regular events we encourage our members to connect and grow in a space that isn't always work-based.
Flexibility
One of the most important aspects individuals who look into a coworking space are seeking is the flexibility coworking spaces can offer over a traditional office space. It puts freelancers, digital nomads, or those looking to split their time between their home office and an office environment, into a more limited, long term commitment that can prove to be more costly than something more flexible, such as co-working spaces. Most people these days are looking for something with the most flexibility possible. Why be tied to one location on a multi-year contract, when your business could allow you to be in another continent in one month time?
At SOHO Office, we have created the perfect solution for flexible coworking. Select one of our coworking plans, and come and go as you please throughout the workday. Enjoy all the amenities found in new traditional offices, at a fraction of the cost. No long-term commitments. Ultimate flexibility.
Amenities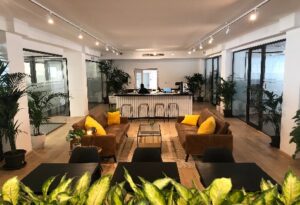 Not all coworking spaces are designed with amenities that may be essential to your business. When choosing the right coworking space, it's essential to first evaluate what your business needs are out of a private office. For example, maybe your business requires you to take many calls throughout the day. Does the coworking space you're considering offer meeting rooms usage? Does it have phone booths or other cabin spaces where you can have a confidential conversation?
Other small things that can truly make a difference in a workspace can be as small as a kitchenette and free coffee services. Does the coworking space provide a coffee or lunch station where one can take a few minutes to enjoy a lunch break away from your desk? Does the coworking space have a free internet connection? These are all important questions you should ask yourself before signing onto a fixed desk in a coworking area.
Cost
Some think if you're in a business centre, you might as well take fixed desks or hot desks for you remote workers. But that's not always the case. Depending on what your business needs are, a desk in a coworking area could be the most ideal solution in numerous ways. A key point being low costs.
Traditional office space has many advantages, however, it also has many costs associated with those advantages. When choosing a flexible hot desk in a coworking space, small business owners eliminate the costs of:
Unproductive office space: including associated operating, upkeep, and maintenance costs

Property maintenance

Office furniture

Extra fees: this can include internet/wifi, utility and water bills, and other administrative costs.
SOHO Office Space in Malta Provides Simple Solutions for Success
SOHO provides stress-free, flexible solutions that are tailored to support all of your business needs.
SOHO offers:
4.5k sqm

of modern office space from 3 upscale business centres, conveniently located in the most prominent business districts in Malta.

A choice of over

70 Private Office Suites,

and designated

Coworking

spaces that are fully furnished and equipped, ready to move in.

Multiple

Conference and Meeting Rooms

.

Free meeting room hours for coworking membership

Exclusive Office Memberships.

Flexible

Lease Contracts.

Options to easily

Upgrade.

SOHO's

Signature Amenities.

SOHO's

Community

And much more…
Make Your Company's First Impression With Your Client's A Lasting One With A SOHO Office Space In Malta