The wave of flexible work requirements during the pandemic has revolutionized the traditional concept of office space. The 'new normal' has increased the demand for a flexible and affordable modern office space solution that meets the needs of today's innovative minds.
More than just a trend, coworking spaces are an example of modern office space solutions that are increasingly growing in popularity around the world. A coworking membership grants its users the utmost flexibility a workspace can offer by allowing its users to work when and wherever they want while remaining cost-effective.
What do coworking spaces offer?
Coworking spaces typically offer a wide range of flexible workspace memberships, focusing on an open-plan work environment.
Providing a variety of desk workspaces in an open, neutral work environment, different individuals work independently alongside each other. The most common products a coworking space offers are Hot Desk and Dedicated Desk solutions, however, coworking spaces can also offer private office spaces, meeting rooms facilities, and event venues for rent.
Coworking spaces also provide all of the amenities you would typically find in a commercial office environment, such as: meeting rooms, Skype/Podcast rooms, kitchens, coffee areas, high-speed internet, and serviced receptionist services, all to the users disposal.
What is a coworking desk?
Essentially, a coworking desk is a shared workspace in a neutral, open environment. Coworking desks are typically used by freelancers, digital nomads, small-to-large sized companies, companies working on time and location restrictive projects, and self-employed workers. You can usually find individuals from all walks of life in a coworking space.
A coworking desk is typically separated by two memberships: a Dedicated Desk or Hot Desk membership.
Dedicated Desks
A dedicated desk solution in a coworking area provides its user with full-time desk space, available just for their use. Individuals who use a dedicated desk space are typically granted 24/7 access to the workspace and can leave their belongings on the workstation, instead of removing them each day as a 'hot desker' would. Dedicated desk users typically have more complimentary access to the amenities within the business center due to their longer-term commitment to the workspace.
Dedicated desk memberships are ideal for individuals who are seeking a full-time office environment, however, without all of the overheads a traditional office space would incur. Dedicated desk memberships provide key flexibility to start-ups seeking to limit cash outflow while utilizing an office environment, self-employed individuals, freelancers, or companies who require workspace in a location and time restrictive projects. A dedicated desk membership in a coworking space is a cost-effective workspace solution and can be rented on a 1 month, 3-month, 6-month, or 12-month basis.
Hot Desks
Contrary to the traditional use of dedicated desk allocation, hot-desking enables individuals and groups to take advantage of workstations that are available at different time periods on an ad-hoc basis.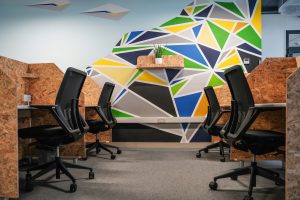 A hot desk does not guarantee one a desk workspace as a dedicated desk membership would; Alternatively, users renting a hot desk utilize the workspace on a first-come-first-served basis, making this membership type the most ideal for individuals constantly on the move, digital nomads, freelancers, or those looking to combine work from home and an office environment, without a full-time commitment required. A hot desk membership would be a more cost-effective solution when compared to a dedicated desk membership, due to the flexibility of the membership. Hot desks are available for rent by the day, week, or on a month-to-month basis.
Can you use a coworking space as a business address?
Depending on your country of residence, individuals who utilize a coworking space have a range of options when it comes to obtaining a registered business address via the coworking space provider. It is important for the company or individual who is considering a coworking space due to the registered business address capabilities, first checks the country's requirements. In Malta, companies or individuals seeking to utilize a business address for their company must have a lease agreement in place with the coworking provider, detailing the use of the workspace, or utilities are being paid by the user of the coworking space. A lease agreement is often provided when users rent a dedicated desk solution from a coworking provider for a minimum of a 1-year term.
At SOHO Office Space, members who utilize a dedicated desk membership on a one-year term are granted the ability to provide the lease of a workspace as their registered business address to local authorities.
For individuals who are looking to obtain a business address but do not require full-time workstation access, can opt for a Business Presence membership. Granting its users access to any of SOHO Offices 3 central locations during working reception hours, users are able to create a strong business presence for their company while utilizing the business center on a Plug N' Play basis.
Spots for remote working in Malta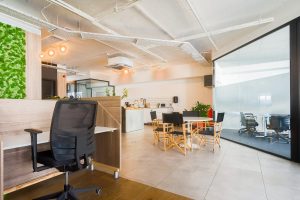 Studies conducted by Stanford University have found that 'remote workers who are not tied by a fixed set of office parameters produced higher quality work products, exhibited lower stress levels and were more efficient with time management in both their professional and personal capacities.
So while for some inspiration, creativity, and productivity may come:
Whilst sitting in their favorite local café enjoying a cappuccino;
Or perhaps sitting on one of the public benches situated along the Sliema promenade overlooking the Mediterranean;
For others, it is simply sitting on their couch in the comfort of their own home.
However, while the above working environments do work for some, for others the distractions from;
The chatter of other patrons in the cafés;
Unreliable network connections;
The flow of the traffic noise in the background;
And the untimely interruptions from family members and/or your pet's sudden urges
If you resonate with the latter, a coworking space may be the most suitable option for you. SOHO Office Space is the largest provider of flexible office space solutions in Malta. SOHO offers over 4.5k+ sqm of office and coworking workspace in three modern locations, conveniently located in the most prominent business districts in the country.
Reasons Malta is a great destination for Digital Nomads
Malta is one of the most ideal locations worldwide for Digital Nomads. Apart from the highly anticipated Digital Nomad Visa scheme, which allows individuals with citizenship outside of the European Union to legally work and live in Malta for an extended amount of time, Malta's widely diverse and growing expat community creates the perfect hot spot for Digital Nomads.
A small but mighty island nation, Malta is easily navigable. Public transport (buses and ferry services), electric scooters, bicycles, and cars are easily accessible to residents, as well as many ride hailing companies finding success on the island, Nomads can easily get around the island when opting not to go by foot.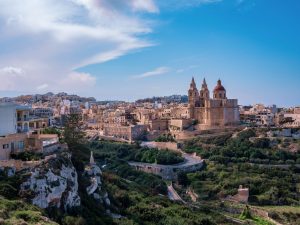 Malta boasts roughly 300+ days of sun each year. Located in the middle of the Mediterranean with idyllic views, Malta is an ideal stepping stone for travel into Europe, Africa, or towards the Middle East.
Compared to other desirable Nomad nations, Malta's cost of living is manageable. With a local favorite, Pastizzi, costing you a mere €0.30, getting a snack in Malta won't break your bank. There are various options for hotels/ Air BnB's, restaurants, coworking spaces, leisure activities, and transport for low budgets and high end spenders.
Are you searching for a flexible, cost-effective workspace solution without too much commitment?
SOHO Office Space delivers stress-free, flexible and affordable solutions that are tailored to assist your business with all its workspace needs.
With a business portfolio featuring;
5k sqm of office space spread across three commercial buildings in Malta's most prestigious and sought after business districts
200+ companies
300+ individuals who work out of SOHO's offices
500+ members
SOHO is the Leading Provider of Office Space in Malta.