Many factors go into choosing the right office space: Business owners need to first evaluate what their non-negotiable business needs are from a workspace before securing an office space. Does your business require an open-plan workspace, where your employees can collaborate with ease? Or do you require closed workspaces, segregating your employees by the department to maximize efficiency? Choosing the right office space is pivotal not just for productivity, creativity, and profitability, but also to prevailing your brand image and company culture.
When searching for a best-fit office space solution, keep in mind:
The number of employees you currently employ;
The departmental space requirements;
The number of office equipment and/or furniture you have or may need to purchase;
The overall floor space that is required especially if you are considering implementing an agile working structure;
The style of the office that will work best for your organization;
The allocation of additional room for business growth;
In this article we'll present some of our best tips and tricks for choosing the right office space by evaluating office size, ideal layout, office location, and how to decipher between your wants vs. needs in a workspace.
What You Want vs What You Need
The very first point of action when choosing the right office space is to make a clear list of what your workspace requirements are in order to maximize your business operations and employee productivity. A couple of key factors a business owner needs to consider is:

What kind of work will you be doing in the office space?
Is the office space outfitted with furniture, internet services, etc?
How much space will need to be allocated for technology and equipment?
Will clients ever need to visit your office space?
How many employees will be utilizing the office space?
What amenities does your business require within an office space?
It is essential for a business owner to evaluate their business necessities versus wants before concluding on an office space. An office space which prioritizes eye-catching amenities over functionality within the workspace can seem very appealing upon first glance, but can lead to frustration once the workspace is being regularly utilized by employees and is unable to meet your essential business needs. This can consequently lead to employee dissatisfaction and a higher rate of staff turnover.
How to Choose the Right Office Space?
You've now deciphered between your wants versus needs in an office space and have laid out the road map for your workspace essentials; Now, as business owner, you need to choose the right office space to support your employees and your business activities. Using some of our useful tips, a business owner now needs to consider size, office layout, facilities, condition, and location of their workspace.
Size
In the corporate world, first impressions do count. A cluttered workspace looks unprofessional and at best will yield negative results.

In a traditional office space, it is recommended allocating a space of 10-15sqm per person. The nature and size of your business should help to give you an indication of the overall floor space you may require. However, if you are unsure of how much square footage your business may require, it is advisable to hire office space consultants who will guide you accordingly.
To note: The following figures as listed by another company is just an approximate measurement. You can refer to them as a general guideline. Therefore, they may not necessarily reflect what is available on the market.
Managing Director: 24-36sqm

General Office: 10-14sqm

Open Plan Office: 8sqm
Boardrooms and Meeting Rooms Sqm
Seating for :
10-14 people: 25-39sqm

6-8 people: 18sqm

2-4 people: 13sqm

Server Room: 8-12sqm
Reception Area Sqm
Receptionist + 2-4 people: 18-26sqm

Receptionist + 6-8people: 26-36sqm

Kitchen: 6-12sqm

Lunch Rooms: 10-30sqm
Common Areas such as bathrooms, stairwells, and hallways should comprise between 10%-20% of the total usable area.
Allow additional room for growth.
Office Layout
While everyone has their preferred style of office layouts, nowadays it seems that the contemporary, open-plan style is growing in popularity, especially with millennials.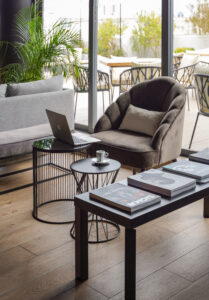 This modern design allows for:
An abundance of natural light to filter in;

And makes it ideal for a more collaborative and conversational office layout;
As the space is unobstructed by dividing walls and partitions.
Regardless of the office style you choose, the objective is to create a relaxed and safe workspace that ultimately benefits all. It is important to bear in mind and ensure that:
You allocate enough free space to allow ease of movement back and forth between the workstations and flow throughout the rest of the office;

All computer equipment and peripherals are within easy reach of employees from their seated position;

The seating layout is specially designed to create a comfortable and social interactive working area for all your personnel.
Facilities
Your business activities will determine what facilities are a 'must have' in your office space. Most businesses share a common need for certain facilities in a workspace: This can include bathrooms, kitchenettes, mail and package collection facilities, meeting rooms, internet connection, parking, and reception services. As the business owner, in the first stage of choosing an office space you compiled the plan of action – You can now use this road map to navigate the essential facilities your business requires from a workspace.
A good starting point is to choose an office space which has:
Kitchen & Bathrooms facilities;

Meeting or Skype Room

facilities to host clients or conduct private business matters;

Break Area, or 'Unwind Space' for employees to unplug and refresh;

24/7 access for employees by means of a key fob system;

Printing and Scanning facilities;
One can then evaluate what more their business requires from the office space.
Condition
Not all office spaces are in readily move-in condition and with some, you may want to add your personal touch.
Commercial landlords have their own rules on how much–if any–changes are allowed on their property. It is imperative that you fully understand what your responsibilities are and if there are any limits in place.

Ask:
Whose responsibility does it fall on to carry out any extra work that the office space may need before taking occupancy?

Are there any imposed limitations on the amount and nature of remodeling works that can be done?

Are there any restrictions on third-party contractors hired to carry out the necessary refurbishments?



Any verbal agreements between you and the lessor should be included in your lease and/or rent agreement to avoid any misunderstandings and unnecessary costs.

If you are unfamiliar with the local dynamics, the process of finding and choosing the right office space can be confusing and unnecessarily complicated.
Location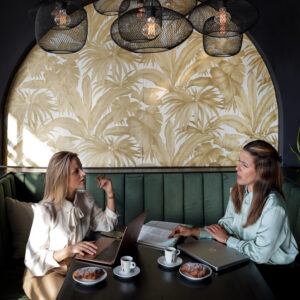 The location of your enterprise can make or break your business; One of the most important factors when choosing an office space is where your chosen location will be. Your corporate address is a direct reflection of your company's commitment to success, and often enhances your commercial reputation within the business community. The location of your business is one of the first opportunities to make a lasting impression; Therefore, location is key.
For business owners who are unsure of where they should set-up-shop, a good starting point is to explore St. Julian's, Sliema, Gzira, and Valletta, Malta's booming business districts. Pricing for office space is typically more competitive in these areas, however your corporate address will be instantly recognized locally.
Where to Look for an Office Space ?
Finding the right office space for your business can be a daunting task. Luckily, there are many avenues a business owner can take to finding the right office space in Malta.
One can check:
Real estate agencies;

Social Media: Facebook, Instagram, LinkedIn;

Office Letting platforms.
Real Estate Agencies
Malta's real estate sector has been thriving for several years, with many established agencies available to assist in your search for the right office space. One can check: RE/MAX Malta, Engel & Volkers, or Sotheby's, to name just a few.
Social Media
In today's age, social media is used by all walks of life. In Malta, many agencies, commercial property owners, or serviced office providers advertise their available office spaces on social media via rental groups, Facebook Marketplace, and traditional paid advertisements. A business owner can use social media as a jumping off point to navigate the commercial market in Malta while building connections with agents and owners.
Office Letting Platforms
For business owners who may be based abroad and don't have an inside look on Malta's commercial rental market, can tap into various office letting platforms. Some useful platforms are MatchOffice, Coworker, LiquidSpace, and Officespace.Rent. These platforms can assist business owners in narrowing down their search by location, price range, office size, and amenities within the business centre.
Can You Afford The Right Office Space?
Another major factor to consider when choosing the right office space is cost. The price of the office space and its many overheads can hinder a business, rather than promote its growth.
Most commercial space available for rent in Malta is large and unfurnished. In addition to your monthly rent, you need to allocate room within your budget for upfront costs and other expenses that may be necessary for a successful transition into the new workspace. Projecting these estimated costs in advance will help you assess affordability.
When choosing the right office space, a business owner needs to take into account not just the monthly rent, but also if the existing budget allows for;
Moving Costs;

Purchasing and/or Leasing of Office Furniture and Equipment;

Extra Fees;

Utility Bills;

Maintenance and/or Repair Costs.
Accounting for these factors can take time away from your business. For business owners who want to avoid unnecessary overheads, one should consider a serviced office space or coworking provider, who will manage all of the above on their behalf. SOHO Office Space is Malta's leading provider of serviced offices and coworking spaces. Business owners can select a private office space or coworking solution based on their business needs and their preferred location, and SOHO will take care of the rest.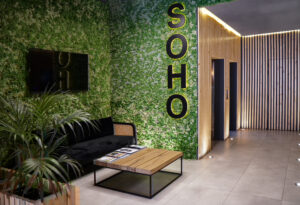 All office spaces are offered fully furnished, outfitted with high-speed internet, key card access providing employees 24/7 access, and CCTV cameras all-around. In-house cleaning, maintenance, IT, and Catering teams take care of traditional overheads a business owner would otherwise need to manage, creating a plug and play workspace experience.
Choosing the right office space can be a challenge, but when following the correct steps it can lead to an exciting new workspace to headquarter your business. As a business owner, it's important to remember to first create a plan of action, and then evaluate: What do you require out of your office space? What are my wants versus needs in an office? What facilities, conditions, location, and layouts should I consider for my business? Where can I find office space in Malta? Once considering these factors, a business owner is more likely to choose the right office space for their business.
Are you interested in learning more about why a serviced office space with SOHO could be the right choice for your business? Request more information, or book a tour of our business centres.