Choosing the right office space is pivotal not just for productivity, creativity, and profitability, but also to prevailing your brand image and company culture. 
When searching for a best-fit office space solution, keep in mind:
The number of employees you currently employ

The departmental space requirements 

The number of office equipment and/or furniture you have or may need to purchase

The overall floor space that is required especially if you are considering implementing an agile working structure

The style of the office that will work best for your organization

The allocation of additional room for business growth
Office Layout
While everyone has their preferred style of office layouts, nowadays it seems that the contemporary, open-plan style is growing in popularity, especially with millennials. 
This modern design allows for:
an abundance of natural light to filter in 

and makes it ideal for a more collaborative and conversational office layout
as the space is unobstructed by dividing walls and partitions.
Regardless of the office style you choose, the objective is to create a relaxed and safe workspace that ultimately benefits all. It is important to bear in mind and ensure that:
you allocate enough free space to allow ease of movement back and forth between the workstations and flow throughout the rest of the office

all computer equipment and peripherals are within easy reach of employees from their seated position

the seating layout is specially designed to create a comfortable and social interactive working area for all your personnel
Size
In the corporate world, first impressions do count. A cluttered workspace looks unprofessional and at best will yield negative results. 
In a traditional office space, it is recommended allocating a space of 10-15sqm per person. The nature and size of your business should help to give you an indication of the overall floor space you may require.  However, if you are not sure of how much square footage you require, it is advisable to hire office space consultants who will guide you accordingly.
To note that the following figures as listed by another company is just an approximate measurement. You can refer to them as a general guideline. Therefore, they may not necessarily reflect what is available on the market.
Managing Director        24-36sqm
General Office                 10-14sqm
Open Plan Office              8sqm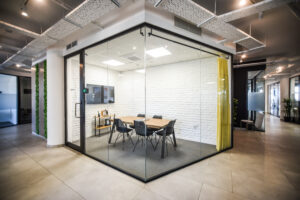 Boardrooms and Meeting Rooms
Seating for 10-14 people       25-39sqm
                     6-8 people             18sqm
                     2-4 people             13sqm
Server Room:                          8-12sqm
Reception Area
Receptionist + 2-4 people     18-26sqm
Receptionist + 6-8people      26-36sqm
Kitchen                                     6-12sqm
Lunch Rooms                         10-30sqm
Common Areas such as bathrooms, stairwells, and hallways should comprise between 10%-20% of the total usable area.
Allow additional room for growth.
Condition
Not all office spaces are in readily move-in condition and with some, you may want to add your personal touch.
Commercial landlords have their own rules on how much–if any–changes are allowed on their property. It is imperative that you fully understand what your responsibilities are and if there are any limits in place.  
Ask:
Whose responsibility does it fall on to carry out any extra works that the office space may need before taking occupancy? 

Are there any imposed limitations on the amount and nature of remodeling works that can be done?

Are there any restrictions on third-party contractors hired to carry out the necessary refurbishments?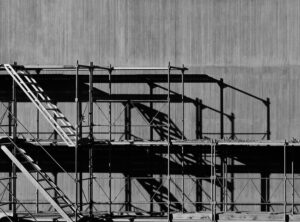 Any verbal agreements between you and the lessor should be included in your lease and/or rent agreement to avoid any misunderstandings and unnecessary costs.
If you are unfamiliar with the local dynamics, the process of finding and choosing the right office space can be confusing and unnecessarily complicated.
SOHO Office Space in Malta Provides Simple Solutions for Success 
SOHO provides stress-free, flexible solutions that are tailored to support all of your business needs.
SOHO offers:
4.5k sqm of modern office space from 3 upscale business centres, conveniently located in the most prominent business districts in Malta.
A choice of over 70 Private Office Suites, and designated Coworking spaces that are fully furnished and equipped, ready to move in.
Multiple Conference and Meeting Room facilities.
Exclusive Office Memberships.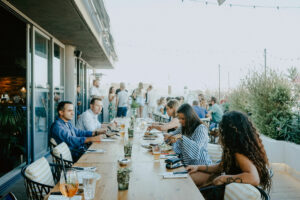 Flexible Lease Contracts.
Options to easily Upgrade. 
SOHO's Signature Amenities.
SOHO's Community
And much more…
Make Your Company's First Impression With Your Client's A Lasting One With A SOHO Office Space In Malta