On average, most people spend about a third of their lives working. While in the workplace, we're expected to boost productivity, produce positive results, be creative, and socialize with our counterparts. The office design can greatly contribute to these factors while in the workspace.
Think about it: have you ever noticed how your mood is affected in a well-designed office? People ultimately want to be as comfortable as possible wherever they go.
The ideal office space doesn't exist. However, simple visual details such as windows, natural light, and plants can greatly contribute to employees' happiness in their work environment. The office design greatly reflects how we feel and think while in that space. This isn't just important for workers. Employers should take note that employees today aren't looking to just come collect a paycheck – employees want to feel happy and motivated in their office layout.
We've listed some helpful tips below on how to decorate your office space, providing a productive and creative environment with good quality furniture for everyone to thrive.
How Practical is the Office Set Up?
One of the most important aspects to consider when designing a current space is how practical it is for those working within it. It's easy to get lost within the wants versus the needs of modern office space. Not every office needs that quirky chair people will maybe sit in once or twice, however investing in a good office chair that will be used daily can make all the difference for your team's productivity.
Ask yourself: Does your office space have all the relevant equipment required to carry out day-to-day operations? Here are a few details one should consider when designing an office space:
Desks and office chairs

Storage space

Technology for your employees to succeed: monitors, mouse, keyboards, and USB's for digital storage

Kitchen space where one can have their lunch, make a coffee, etc.
Employers want their employees to be as motivated as possible when they come to work in order to gain the best results out of their workers. Simple solutions such as the correct technology and functional furniture within the workplace will have employees starting on the right note when working for your business.
Does the office design reflect my brand image and values?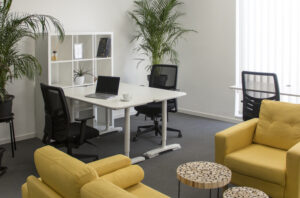 Most employers understand how essential it is to provide a workspace their employees feel happy and comfortable in. An office space should be fluid, fun, and functional for the workers: However, it is also important to highlight the company's values and brand image throughout the workspace. When it comes to business, branding is key. You brand your website, advertising, products, and more – so why not brand your office, too? Your office space should be a key insight to employees and clients what your business is all about.
As a business owner, you want your employees to be inspired by their surroundings and your clients to be impressed with the image your brand presents. A stunning office space can help you boost morale and create flawless first impressions, but your company's brand should be represented throughout to connect the pieces together. It's up to the business owner to first address how they want their business represented visually throughout the workspace. Some good starting points can be painting accent walls in your brand colors, highlighting your company motto in an integral part of the workspace, or as simple as adding your logo to the common stationary.
Getting the Best out of Your Workspace
Office Space planning
No matter how big or small the space is that you're working with, you can always make the most of it by introducing an open plan layout. Simply rearranging the current desk layout to create an open and interactive workspace makes the office space seem like a larger area, while also promoting collaboration between employees.
Natural light
Have you ever considered why we're instinctively more drawn to sit in the window seat? Natural light and windows within an office space are proven to make people happier and more productive while at work, which can only promote efficiency to the highest degree.
Break-out Spaces
It is essential for an office space to have break-out areas so employees have the chance to disconnect from their desks from time to time during the workday. A break-out space doesn't just mean somewhere to unwind and eat lunch, but can actually be used to aid productivity with the chance to continue working away from your fixed desk. The great thing about break-out spaces is the freedom to design them however you want them to look, as this space is usually centered around the employees and their well-being.
What about SOHO Office Space?
With Over 4.5k sqm of office space, SOHO is the largest provider of office space in Malta.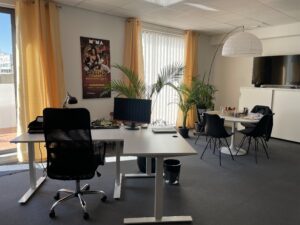 Take your pick from SOHO's Affordable and Flexible Dedicated Workspaces that include:
and your choice of membership plan exclusively tailored to fit your business needs.
Fully furnished, modern, bright, spacious, and ergonomically designed, eco-friendly offices ready to move in.
SOHO's Signature Amenities
Access to an array of high-quality amenities that include:
SOHO's Essential Commercial Services
Serviced Reception

Mail and Printing Services
Connectivity
High-End Digital Technology

IT Support

Interactive and Intuitive Technology in all their Meeting Rooms
SOHO's Tangible Amenities
Fully Serviced Kitchen with complimentary fresh brewed coffee, steeped tea, infused water

SOHO Lunches and snacks

CCTV. Round the clock video surveillance and alarm systems throughout
Positive Distraction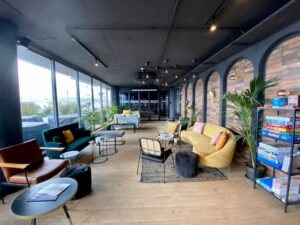 Re-energize in SOHO's Members Lounge, featuring terraces overlooking some of the best coastal views of the Mediterranean in Malta.
Find your inspiration as you lie on the hammock in SOHO's chill-out area.
Fitness Facilities / Gym Classes
De-stress in SOHO's new fitness facilities or join us for a class of Morning Yoga, Core Workout, or Boxing class.
Community
Are you looking for a fun community vibe that does not revolve just around your local internet cafe?
Then we welcome you to join SOHO's community and enjoy a series of 'responsible events' in SOHO's Lounge area. Whether it's board games or movie nights, SOHO always has something special planned every week throughout the calendar month year-round.
And much more…
Come Find Your Inspiration. Work, Connect, and Grow With SOHO Office Space.