In general, a coworking space is a neutral workspace where groups of people work independently within the same space. Sometimes, but not often, a coworking space can consist of a group of individuals working together on the same project in a neutral workspace.
Coworking spaces are like conventional office space environments, but with a twist: Coworking spaces provide all of the amenities you would typically find in an office, such as: meeting rooms, private office spaces, Skype/Podcast rooms, kitchens, coffee areas, high speed internet, and serviced receptionist services. A coworking space provides key flexibility many companies are seeking, without the long term, rigid commitments encountered with commercial office spaces.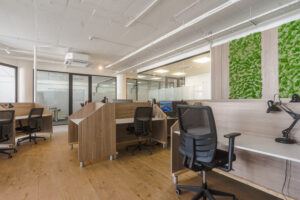 Within a coworking space you can find small to large-scale companies, freelancers, digital nomads, start-up companies, and remote workers. In this article we will detail some of the benefits of coworking, what you should look for in a coworking space, as well as who can benefit from using a coworking space.
What to look for in a coworking space?
There is no one-size-fits-all in a coworking space: Coworking spaces vary depending on today's business' needs. One can find 'Open-Only' coworking spaces, defined as a workspace that is only open workspace. More specifically, these kinds of coworking spaces only provide a hot desk or dedicated desk solution, where individuals truly 'cowork' next to one another.
Alternatively, one could opt for 'Private' coworking spaces, defined as the complete opposite of 'Open-Only' coworking spaces. Private coworking is defined as a workspace that has been segregated into several small-to-large office spaces within the one workspace, or a selection of 'Office suites'. This is also commonly referred to as 'office sharing', as it provides companies who need larger workspaces with flexible, cost effective office space options, without the long term commitments.
There are also coworking spaces that provide a combination of 'open-only' and 'private' coworking. At SOHO Office Space, companies can choose to sit in an open workspace area with hot and dedicated desk solutions, providing an open workspace environment where collaboration and networking is prominent. Companies can also choose to sit within one of our wide ranging private office solutions, providing privacy and a joined workspace for employees to excel throughout the workday. All essential amenities are provided, including: meeting and skype rooms, kitchenettes, bathrooms and showers, serviced receptions, event venues, catering, gyms, and much more.
What are the advantages of using a coworking space?
Flexibility & Cost Effective
Coworking spaces provide much needed flexibility and cost effective solutions to a vast range of businesses in an ever changing economy. The biggest advantage some say of a coworking space is how much flexibility such a workspace provides. With various membership options and wide ranging rental periods, coworking spaces can be an ideal solution for digital nomads, individuals on fixed term projects, and start-up businesses who are always on the move, or seeking a workspace without all of the unnecessary overheads the conventional office space brings.
Community
It's comforting to feel like you're part of a connected group in the workplace, outside your individual desk in the coworking space. Of course, you want a workspace that's work focused – however, humans need interaction. After a long period of time spent inside due to the pandemic, many of us are looking to slowly re-introduce ourselves into social environments. Coworking spaces can provide social interaction and the opportunity to network during events within the business center with a wide range of individuals and businesses you may not have interacted with otherwise.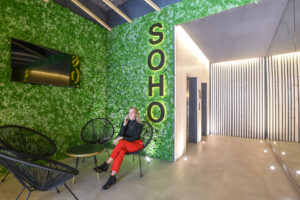 At SOHO Office Space, we believe community is one of the most important aspects of what makes a coworking space work. We've implemented regular 'SOHO Fridays' and other events to keep the members of our community connected.
We trust the importance of a community feel that isn't just operated through the working day, by holding regular events we encourage our members to connect and grow in a space that isn't always work-based.
Location
It makes the most sense to set up your business in the most 'happening' area, however this usually isn't cost effective. Most coworking spaces can be found in the most up-and-coming localities, or in the center of a bustling city, both instances securing a competitive and professional address to conduct business without paying a premium.
You want your business to be seen, as well as situated in an area where other businesses are present, a key sign the location of the coworking space is situated in a healthy business location. Without a sense of interaction, a space quickly becomes cold and unwelcoming. This is certainly not a space you want to bring prospective clients.
Who can benefit from coworking spaces?
Coworking spaces are all about diversity: Coworking spaces provide the perfect playground for small and large businesses alike, as well as self employed persons looking for a more social workspace. Within the coworking space you can find:
Start-up businesses: Coworking solutions are ideal for start-ups as they are the most cost-effective solution for those who need a work space, while creating great opportunities to collaborate and network with other like-minded entrepreneurs.
Digital Nomads: More and more people are gravitating towards the ways of Digital Nomadism. People are increasingly being able to work from anywhere in the world they want: serviced offices can offer a short term workspace with locations world-wide for those who like to stay on the move.
Project based teams: Coworking spaces provide the most ideal solution for teams that need to be based in a flexible work space for a specific amount of time in a specific location. Flexible lease terms provide the best conditions for these teams to thrive, without long-term commitment.
Freelancers: Individuals who are constantly on the move or looking to branch out of their home office space can find refuge in coworking spaces. Freelancers can especially be found in 'Open-Only' or combination coworking areas as they usually require minimal workspace, but seek the social interaction which coworking brings.
Looking for a coworking space in Malta?
SOHO Office Space delivers stress-free, flexible and affordable solutions that are tailored to assist your business with all its workspace needs.
With a business portfolio featuring;
5k sqm of office space spread across three commercial buildings in Malta's most prestigious and sought after business districts
200+ companies
300+ individuals who work out of SOHO's offices
500+ members
SOHO is the Leading Provider of Office Space in Malta.
SOHO Offers:
An Eco-Friendly Environment:
70+ office spaces fully furnished, bright, modern, spacious, ergonomically designed and ready to move in.
That is Flexible:
No long-term fixed lease contracts
Option to upgrade or change locations at any time
And Affordable:
Your choice of Memberships:
Private Office
Dedicated and Hot Desk
Business Presence
SOHO's Platform of Services include:
SOHO's Signature Commercial Amenities:
Company Address Certification Document (Certificate of Incumbency) signed by SOHO's director
Industry-leading Digital Technology
*SOHO's encryption technology software provides clients with layers of added security in all of their business communication:
IT support
Administrative Support
Print and Scanning
On-site Private Mailboxes
SOHO's Tangible Amenities:
Conference Executive Suites
Boardrooms and Meeting Rooms
*Interactive and intuitive technology throughout
Skype and Podcast rooms (soundproof)
SOHO's Social Amenities:
Members Lounge
Events Space
BBQ area
In-House Restaurant and Bar
Café
Rooftop and Patio Terraces
Weekly Social Community Events
Fully Serviced Kitchen
Access To:
SOHO's Complimentary Wellness Programs:
Chill Out Room
Gym (open 24 hours, 7 days a week)
Sauna (open daily 06:00-22:00)
Yoga Classes (every Tuesdays and Thursdays)
HIIT Core Classes (every Wednesday at noon)
Group Boxing Classes (every Tuesdays and Thursdays)
*Complete with showers and changing rooms
SOHO's Extra Benefits:
SOHO members enjoy product and service benefits including discounts from select partners in our community
SOHO's Extra Services:
Parking
Maintenance
Housekeeping
Peace of Mind:
24/7 Key-card entry
CCTV round the clock video surveillance
Mail and Package Handling
And much more…
Come and Meet Your SOHO Team Today!
For more information and to visit one of SOHO's Business Centers at: Savoy Gardens, The Strand or St. Julian's contact us on +356 99 334 333 or email: info@sohomalta.com to book your free tour today.
Make Your Company's First Impression With Your Clients a Lasting One With a SOHO Office Space in Malta.